Postnatal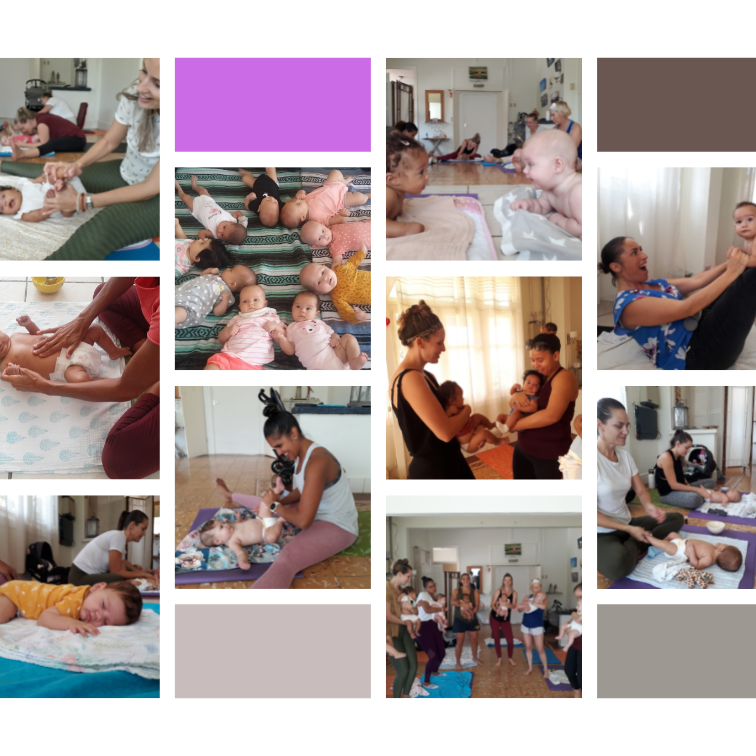 The postnatal period is perhaps the most fragile and overwhelming stage of motherhood. To navigate this delicate stage more smoothly,
follow these guidelines:
1st Month
= Cocoon Month : only eat, rest and (breast) feed your baby as you fall in love with each other
2nd Month
= Come to Postnatal Class, when your baby is 4-6 weeks old, don't isolate yourself, connecting with other mommies is a welcome relief
3rd Month
= Things are getting easier now, your baby starts developing a sleep and feeding routine, good time to inscribe again in a weekly yoga class, relaxed mommies can love their babies better!
The Mom and Baby Classes

You learn exercises for the baby to develop an overall healthy and strong body.
Learn baby handling techniques to release gas and relieve cramps.
Sing songs and play games with your baby for brain development and bonding.
You get to practice postnatal recovery exercises and yes even relax a bit.
Learn baby massage techniques to boost your baby's physical health and deepen your bonding.

The mom and baby classes are baby friendly.
Babies are allowed to cry, poop, (breast) feed and do whatever needs to be done to meet their needs.
After class Shanti serves tea and cookies and usually mommies chat away!.
You will take home lots of tips, insights, support and new friends for your baby!.
Most mommies report their babies sleeping better and deeper after a class.
Testimonials
" This is a great hour once per week for new moms to get together, Shanti teaches ways to look after yourself, bond with your baby in fun ways, massage your baby….she even helps with tips on burping, releasing gas, breastfeeding and sleep techniques.
Mom & Baby yoga is a wonderful way to have fun with your baby in a very open environment surrounded by people in the same shoes as you and for the babies to start to interact with each other. Sofia and I love going each week, we have learnt invaluable tips and have so much fun during each class."
~ Mom Katie & Baby Sofia
Thursday 10.30 am - 11.30 pm f25
at Heartly Fitness Center in Dakota

Ages 4 weeks up to crawling stage
bring: towel ~ baby blanket ~ massage oil
there is organic massage oil for sale
interesting research article on benefits of Baby massage : https://www.magonlinelibrary.com/doi/full/10.12968/bjom.2015.23.3.166