My Birth Story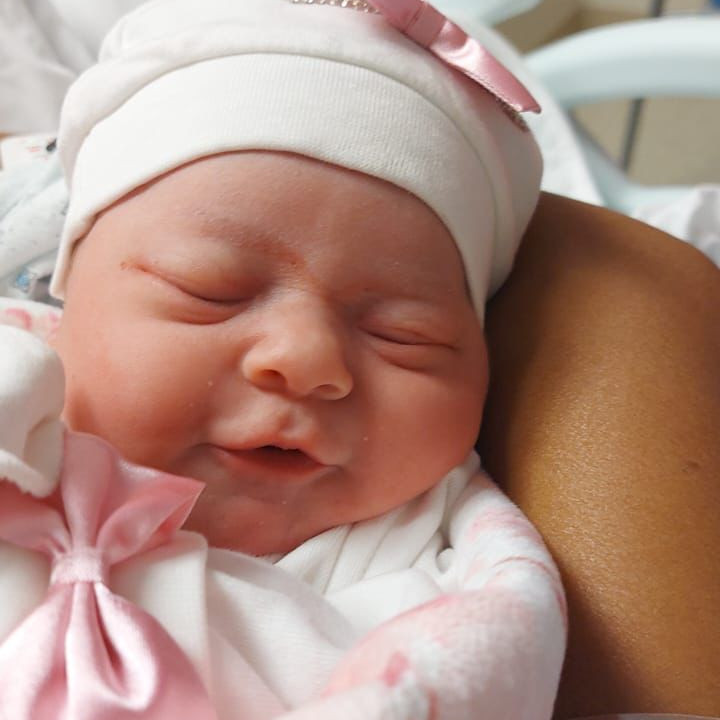 2023

Hi Shanti! Kier a laga Shanti sa cu Emilia a yega siman pasa diamars❤️ danki pa tur cos
Parto a bai natural y mi a uza tur Shanti su techniques ora di contractions
Esey a yudami super hopi y mi a logra dialate hopi liher
Mi a drenta hospital na 4cm 6pm y hanja yiu 10.38pm
~ Mami Melina & Baby Emilia

E parto a bay bon...hopi intense vooral cu e tawata diferente cu e prome
Mi awa a kibra na cas 2.45 marduga. 10.55 mainta e la nace parto natural.
E no kier a warda y despues di 2 a 3 push e la sali.
Gelukkig geen scheur en nu thuis aan het herstellen, genieten en zorgen.
Er komt weer veel op ons af maar het hoort erbij
Mi mes a keda manera asombra, full otro cu e prome parto pero den mente caba ma sinti cu e ta bin e orario y e curpa twt duna tur e señal nan.
Dolor di lomba abow, contraccion mas fuerte y hopi druk abow.
Mi ta agradecido na e tips di Shanti durante e lesnan.
Vooral pa embrace mi mes forza y keda pensa cu tur cos lo cana manera mester
~ Mommy Noemi & Baby

Hii tante Shanti
Oann nos baby a nace 5 April.
Mi kier a yamabo pa waterbevalling te roa Oann a poop den mi vruvchtwater!
Mi a vang op tur pains since 2:22 na cas… rond 7 ora ns a yega hospital mi tbt tin 5 cm.
Well ma kere yess e ta bay liher… wrong was I
Nos a use e spray y bo playlist la help a lot ora cu mi mester a bay na monitor after cu e baby a poop.
Meditation on bed a help.
Djies ora cu ma wordo ingeleid y mi pains tbt only rugweeen cu mi
no tbt conoce… tbt really hurtful. Mi controlling myself tbt hard.
ook cu ma keda stuck hopi largo na 6 cm tbt untiki discouraging…
ma haya e spuitje uiteindelijk pa calm me.. cu a yuda 45 min
na 8 cm ma haya persdrang
Oann su schouder a keda stuck tijdens het persen …
so nn mstr a full sake…
BUT mi a pers good y door di nose! Nos no a keda cu niun after effects, ni un schaafwondje hihi!
Thank you for teaching mi tricks…
I felt prepared y ma deal cu whatever needed to be dealt with in the process.
~ Mommy Shindy $ Baby Oann


Cesarean Birth:
I still remember one of my fav quotes that I've learned in the prenatal yoga classes: "I am prepared for everything, I expect nothing".
This is really how I felt from "wil waterbevalling" to c section "met spoed". I have to admit it was not what I had in mind because I had a blast these past 9 preggo months (luckily no symptoms at all, & I was truly enjoying baby Marxon in me and every single part of being preggo). But it is what God had in mind for me, for our sweet baby, for us, for our family. The slow dancing with marc, breathing tecniques (learned by shanti really are the best), aromatherapy and relaxing playlist helped me a lot through the Ballonkatheter, (induced) contractions and failed epidural (in my case it was not effective at all as stated by the doctors). But having marc by my side through this journey is the best part! It were 2 very long days at the hospi, especially the long and lonely nights (with no "adult" loved ones by my side to give me a helping hand).
I was fully in charge of our baby & in a lot of pain, so it was not easy but I managed to give him all the love and changing pampies when he needed, also feeding him all night. I must say thanks to the wonderful birth staff at hospi for all the support & care.
After all, I would say I am blessed, my baby is blessed & our family is blessed.
I gave birth at 41 weeks with 4 days. That's why I couldn't give birth with the widwife anymore. Not what we had in mind, but I tried to embrace the journey that was meant for me, for our sweet babyboy. Our biggest blessing & motivation!
~ Mommy M. & Baby M.


2022
Hi bon tardi Shanti...nos baby a nace awemainta pa 8.31 am. Tur cos a bai bon y full natural! Baby y ami ta doing good!!
Danki un biaha mas pa tur cos..guia y conseho nan. Sin nan lo twt imposibel. E dolor twt tremendo pero mi a lucha cune te final (grita un poco :))
y pushamento a bai di biaha(4x)
~ Mami Zuleima & Baby Nathan Matthew Maduro
Ik wil je bedanken over de informatie die je aan ons doorgaf tijdens de yogales. Ik heb veel aan ademoefeningen gehad. En met kokosolie insmeren tijdens persen
Baby kwam zo soepel en snel uit. Echt een mega goede tip van jou.
~ Moeder Vlora & Baby Lina
Hi feliz atardi Shanti.
Masha danki pa tur e lesnan durante e temporada dimi parto. Sigur a yudami hopi vooral ora verpleegster tabata bisami hala rosea y abase di e dolor ya mi tabata sa caba di tecnica pa uza. Bela,pluma, puppy breath. Den sala mi ta cumi mama bela pluma. Eta mane huh I never hear about that tempo cu ela hayami(no tabata asina sofestica cu lesnan pa parto) Btw e coconut oil massage tabata heerlijk! durante e dolor di mi parto. Mi a pasa mi due date cu 5 dia(dus el a nace 09 Febr 2022) y mi tabata tin problema si cu e presion cual a opta cu mi mester a opera na ultimo momento. (den mi cabes: Iam ready for everything. I expect nothing. Esaki a yuda pa asina mi no sinti malo ora nan a bisami pa opera. Ni modo cosnan inevitabel cu por socode. Pero danki Dios tur cos a bay bon. Mi a sali di hospital y awor mi ta na cas enjoying cumi babygirl. I am looking forward pa les di masashi cu baby serca Shanti.
~ Mami Giovana & Baby Giviënni Danies
Hi Shanti! I gave birth yesterday and wanted to thank you your tips really helped me get through it. My labor was 5 hours and pushed for 7 mins I'm proud of myself
~ Mommy Magaly & Baby Suzanna
Mi kier a bisa Shanti danki pa e programa di yoga. Ela yudami masha hopi mes durante mi parto. E breathing, e cosnan di pareha. Ora mi a yega hospital ya mi twtin 5 cm habri caba pasobra mi twta hala rosea bon. Ela bai basta smooth toch mi ta haya. Hopi danki
~ Mami Shevonne & Baby Sevina Angelina
Shanti — Masha masha danki pa e amazing help durante e embaraso. Diabierna dia 15 nos baby Macy Mae a make su grand debute. Mi a yega hospital cu 8cm habri danki na bo amazing tools nan cu bo a duna durante e les nan. Diahuebs anochi mi a cuminsa hanja dolor di 7pm pero masha leve cu mi a bai wak Beach tennis, busca mi suegro nan di Airport y sinta come cu nan. Pa 11or mi a cumsa time mi dolor nan paso mi no tbt sa si ta dolor di parto sigur. Mi a pasa e anochi cu dolor cu ta varia di 8-10minute pero asina mes mi tbt "pega sonjo" dor di nan dor di a keda hala rosea cada bes ke dolor bin. Pa 7:25am e dolor nan a cuminsa hopi mas pisa. Mi partera Xochi a bisami bai bou di awa low y kedando practica mi breathing exercise mi tbt pasa dor di cada contraction. E ta un dolor hopi imenso y asina mes mi a wanta te 10:30am bayendo dor dje dolor halando rosea y hopi calmo. Mi tbt duda si pa bai hospital paso mi no tabata kier nan mandami cas back.
Ora mi a yega hospital y a wordo avisa mi ta 8cm mi gewoon no por a kere. Mi ta supone pa 12:45 ongeveer mi a cuminsa pusha y pa 13:18 Macy a nace, y mi a scheur masha nada tambe.
Looking back e tabata duro e dolor nan, pero mi a logra pasa dor di dje asina fasil danki na bo.
Keep up this amazing job cu bo ta hasiendo yudando tur e mama nan pa tin un smooth labor.
Ami y mi casa ta hopi grateful pa tur loke a wordo sinja. Masha masha dankii y ora nos ta zover nos lo book yoga cu Shanti cu baby Macy☺️
~ Mommy Ruthling and Baby Macy
2021
Na een hele fijne zwangerschap besloot de gynaecoloog bij 38 weken om de bevalling in te leiden, omdat mijn dochter nogal achter was gebleven qua groei. In eerste instantie was dat nogal een shock, maar later voelde ik: mijn lichaam is hiervoor gemaakt! De volgende ochtend werd ik opgenomen in het ziekenhuis en nadat de gynaecoloog mijn vliezen had gebroken hebben ze de weeënopwekkers gestart. Kort daarna begonnen de weeën en ik kon het heel goed opvangen. In eerste instantie bleef ik met alle snoertjes in bed, maar later mocht ik op de bal zitten. Het was fijn om even in een andere houding te kunnen zitten. Mijn ontsluiting ging helaas niet zo snel als we hadden gehoopt (ongeveer 5 centimeter in tien uur tijd) dus de gynaecoloog had mij een epiduraal aangeraden. Eigenlijk wilde ik het zo natuurlijk mogelijk houden, maar ik merkte aan mijn lichaam dat ik niet meer goed kon ontspannen en die medicijnen hebben daar heel goed bij geholpen. De laatste 5 centimeter gingen enorm snel (met flinke persweeën) en ongeveer 1,5 uur later mocht ik gaan persen! Mijn lichaam wist precies wat het moest doen, wat ervoor heeft gezorgd dat mijn dochter Nova na één keer persen en zonder complicaties is geboren. Het was al met al een prachtige ervaring en een bevestiging van alle lessen van Shanti: dat je als vrouw altijd vertrouwen moet houden in je lichaam!
~ Sharon Lutje & Baby Nova
Dag lieve Shanti, gister is om 18.43 uur onze lieve dochter Evi geboren wij maken het goed. Ik ben bevallen in bad en het ging super, ik heb ontzettend veel aan jouw lessen gehad en ook persen ging heel goed bedankt
~ Moeder Kim en Baby Evi
Bon dia Shanti. Mi prinses, Caelie Jane, a nace awe marduga. Mi a jega hospital pa 4:10 y ela nace 4:29 ???? masha danki pa e yoga classes cu a judami hopi mes e parto aki ???? exactly what I was hoping for. Mi ta truly grateful pa e lesnan. Mi ta sintimi so happy y blessed ????
~ Mommy Carlene & Baby Caelie
Hi Shanti! I wanted to write an update on our baby girl, Arden Deborah.
I ended up having to go to the hospital Wednesday because my blood pressure was high and they figured out I had preeclampsia. They then started to induce with a foley bulb since she wasn't ready to come out. It didn't work to start labor so Thursday they gave me the induction medicine. The nurses at the hospital were so nice and still let me move some to get through the pain. Labor started around 10 am with rock music to get through the contractions for 4 hours. Then after I got the pain meds, I was actually able to meditate for the last four hours! They put the hospital bed like a chair, I sat up straight with my palms up on my lap and my feet touching. Ive never really mediatated before your class but those last 15 minutes of each class really showed me what it meant to be in a meditative state. I was able to breath through the contractions, the vomiting 6 times, the peeing myself twice all while barely moving a muscle. In the end, the pushing feeling came and I only had to push for 15 minutes but, Jesus, I felt like a wild woman with all the screams haha. We are happy with our healthy little girl!
Thanks for preparing us for one of the hardest days of our lives. Even though it didn't go as expected, hearing the stories about how we can switch our mindset really helped get me through all the surprises and expectations. Best of luck to the rest of the April mommies! Hope to see you at a mommy and baby class soon ????
~ Mommy Theresa & Baby Arden
Bon dia tante Shanti!
We zijn bevallen om 2.43 in de ochtend van een kerngezonde jongen Joaquim.
Alles is goed gegaan.
Hartelijk bedankt voor je lessen, het heeft mij zoooo goed gedaan. Was zo rustig en ademhaling ging goed. Op het einde moest mijn man mij wel herinneren hoe te ademen, maar dat was de adrenaline. Blij dat ik toch bij de borstvoeding bij kon zijn
Rond half 12 was in in het ziekenhuis en ik had al 7 cm ontsluiting. Heel snel gegaan. We gaan nu genieten van ons kleine mannetje ????????_
~ Moeder Nicole & Baby Joaquim
Danki pa tur conseho, lesnan, tips. Shanti mi twt focused all the time.
Mi awa di yiu a kibra 1:50 am.. pa 5:04 am mi princesita a nace.
E twt un experencia inolvidable pero mi ta hopi proud dimi mes cumi por a make it. Y trece mi princess na mundo parto natural. ????????Pami e rosea di 4x inhaal en 7 eruit a yudami mas cu tur. Y semper ma pone den mi mente : I can and i wi
ll. My body is prepared to deliver my baby. ????????
~Mommy Maya & Baby Zaynah
Hi Shanti, Guess who gave birth yesterday!
I seriously couldn't have done it without you and your classes! Even the partera asked me if I was taking your classes because of how I handled labor and pushing!
My labor & delivery was entirely unmedicated, and I found the feather breath to be my go-to technique as it kept me calm and collected.
As for laboring itself, I spent the entire time on my feet (besides dilation check and pushing) walking around the room and then the last hour before pushing I was doing circles underneath the warm shower ????
I truly mean it when I say I couldn't have done it without you! Your classes were the holy grail of my entire pregnancy and I can't wait until my babygirl is old enough to join auntie Shanti in the mom & baby classes
~ Mommy Gabriella & Baby Charlotte
2020
Het gaat hartstikke goed. De bevalling moest wel even worden opgewekt met een ballonkatheter maar na een dag braken mijn vliezen en kwam de bevalling vanzelf op gang. 6 uur later was ze er dus dat ging nog best snel. Het was precies zoals in de cursus met de fases haha dus ik was heel blij met de cursus die we hadden gehad! Bedankt voor alle informatie, de fijne yoga lessen en de workshops! En laat me maar weten als de mama yoga begint, dan willen wij wel komen ????-
~ Moeder Kim & Baby Fenne
–
Super dankiii pa tur e les nan y tur e tips nan… nan a yuda sublime… blowing candles.. positive mind set… meditation music in the room… parto a bai super lihe.. lil boy just kier a bin afo hahahaha. Y den 3 pusha he came into this world ????????
~ Mommy Latifa & Baby Jaxtyn
–
Dia 1 di october a nace mi dushi Eva-Marie. 3:25 AM????
Mi awa di yiu a kibra 30 sept 10:45 y baby a nace 1okt 3:25 am dus parto di 4ora y 20 min
Parto Normal. Mi twt tin dificultad pa domina e rosea durante di contraccionnan cual a dunami dolor den mi pecho paso mi no twt haci esaki bon. Kizas bon pa otronan siña di mi error. Pero dolornan tabata segun ami HOPI mas fuerte cu mi prome yiu. Mi a pusha 7 minuut so???? y cu puppy breath atrobe mi a scheur minimaal cu mi a haya un cosi masha chikito (1 stitch). Forever thankfull na e puppy breath. Mi por bisa si cu e biaha ki aunke mi no a domina rosea durante contraccion bon, durante pushamento si mi focus tabata asina bon cu mientras mi twt pusha mi por a sinti loke ta pasando na mi parti abou di cual mi mes a sinti e cabes sali y ma haci e puppy breath y cu un ultimo pusha e baby a nace. ????????
~ Mommy Roxanne & Baby Eva-Marie
–
Bon tardi Shanti
Ayera atardi ma hanja mi baby
Ma cuminsa cu contraccion 2:30 am cada 20 min ,bandi merdia cada 5 min e ora ma bin hospital, 1 or mi twt tin 3 cms di dilatacion, pero e contarccion nan a cuminsa bin mas fuerte y frecuente, 2:20 mi twt tin 6/7 cms caba
Y mi baby a nace 3:07 pm , ma pusha 3 biaha so …Danki Dios tur cos a bai bon Y lihe
Danki pa e training ????
~ Mommy Lina & Baby
–
Bon nochi Shanti. Mi kier a duna Shanti e noticia cu nos baby Azeah(AZ-Ja) a nace 24 september 2020. Cu 37 siman y 2 dia! E ta healthy y hopi tutu. Mi awa di yiu a kibra y nan mester a tenemi 24ora di hospitaal pa lanta dolor. Mi a haci e oefening di supla bela y tambe tene na muraya y move cu mi heup! Esaki a yuda 200%! Tambe mi a haci uso di tips manera: verwacht niks, hala rosea, pusha di e forma corecto y esaki a yuda! Mino a scheur y baby a nace den 8 minuut! Mino a yora y tampoco grita. Hopi danki pa tur cos Shanti!!
~ Mommy Adrielle & Baby Azeah
–
Hi Shanti, ik ben vanmorgen heel vroeg bevallen van Julia Louisa Croes ????. De bevalling ging heel goed. Ik ben alsnog in de douche gaan zitten op de stoel leunend tegen de rails. Dat was toch de enige plek waar ik me kon concentreren dan maar zonder water ????. Ik heb heel veel aan je te danken. Ik heb je playlist afgespeeld en heb jou veel gevisualiseerd dat je advies geeft in ademhaling ????. Dat gaf een hele rust tijdens de weeën. Bevalling was super snel. De echte weeen begonnen rond 22/23 uur en om 2:40 was ze er. Super bedankt voor alles ????????
~ Moeder Mariska & Baby Julia
–
Mijn water brak maandag ochtend om 5 uur. Toen zijn we naar het ziekenhuis gegaan want ze wouden het checken. Bleek inderdaad vruchtwater te zijn, maar had geen weeen, dus we mochten of blijven en wachten op weeen of naar huis en wachten. De weeen begonnen niet en ben dinsdag ochtend om 8 uur ingeleid.
De weeen begonnen rond 1 uur ongeveer, maar zat aan de ctg dus mocht niet rondlopen enzo. Rond 3 uur had ik 2cm, rond 5 uur had ik 5cm, rond 6/7 uur had ik 9cm en hele erge persdrang, vond dat het allerergste haha. Om 8 uur mocht ik persen, en precies om 9 uur kwam ze eruit, heb haar er zelf uit getild, dat was heel speciaal????
En heb geen hechtingen????
Tip voor de moeders, probeer voor te bereiden op de mindfulness die Shanti je leert voor als je plotseling niet mag rond lopen, dat het je niet overkomt en je niet weet wat je met jezelf aan moet. Op dat moment heb je geen tijd meer om een plan te bedenken.
Zorgen dat je iemand bij je hebt die jou 100% steunt en niet aan zichzelf denkt op dat moment. Ik had het niet zonder Brian kunnen doen, hij hielp mij te herinneren om rustig te blijven adem halen. Dit was nodig op de moeilijkste momenten!
Focus op 1 ding, en blijf rustig ademhalen! De veer en kaars ademhaling werken beide heel goed zolang je rustig blijft.
~ Mommy Marucha & Baby
–
Alles is goed gegaan en heel veel aan de lessen heb gehad! Zolang je je ademhaling onder controle houdt is het allemaal veel makkelijker! Zou het zo weer doen! Nogmaals heel erg bedankt!
~ Nikki en Baby Bodi
Wij zijn afgelopen zondag 10 mei trotse ouders geworden van onze zoon Loú Storm Oude Avenhuis. Hij is om 16.39pm geboren nadat om 10 uur die ochtend mijn vliezen zijn gebroken door de verloskundige. Het kwam niet echt op gang maar had al wel 3cm ontsluiting. Om 1 uur kreeg ik een dosis weeen opwekkers en toen ging het heel snel. Om 3 uur had ik nog 4cm en om 4.30pm kreeg ik pers weeën. De gynaecoloog was net te laat maar de zuster en Sjoerd hebben mij heel goed geholpen. De puppy breath heb ik enorm veel toegepast bij het persen omdat ik meerdere malen moest stoppen. Echt geweldig! ???????????? ik heb 10 min geperst en toen was hij er al. Een mooie bevalling. Super bedankt voor de fijne lessen en alle tips! ????
~ Mama Elaine & Baby Lou Storm
.
Diaberna mainta trempan mi a cuminsa haya weeën.
Pero rato rato durante dia nan tawata baha/sconde.
Marduga birando diasabra nan a bira mas fuerte y pa banda di 3.30/4 or di mainta mi lo a bay den e 'swamp'.
Un rato prome cu 6 or di mainta mi a bay den e bevallingskamer; pa e ora ey mi a habri 10 cm
Mi a cuminsa pusha 6.30 or ne di mainta y 7.03 or di mainta Amelie a nace ????????
danki pa e enseñansa y consehonan.
E no ta facil Pero e ta algo bunita pa trece bida nobo den e mundo aki
Mommy D. Y Baby A.
.
Hoi Shanti. Ik zal er vanavond niet bij zijn bij yoga, want ik ben (eindelijk) bevallen van een prachtige zoon Lewis????.. de bevalling was heftig, want hij was er binnen 2 uur.. zoveel mogelijk ademhaling toegepast, maar had al persweeen in de lift van het ziekenhuis dus daar raakte ik het even kwijt???? alles gaat super goed met ons beide en we zijn nu super chill???? Nogmaals weer bedankt voor de fijne lessen!
~ Moeder Annemarie & Baby Lewis
,
At first I just tried to get back to sleep but around 1 am when I was sure, I rallied up the troops!
I shared a special moment with my sleeping daughter and kissed her for the last time as my only child. Once we got to the hospital I had to wait to be attended by my partera since she was tending to another mommy. My partner and mother were literally served coffee standing at the reception counter as if we were at a bar, while I was blowing candles. And during that happy hour at 2:30 am my water broke. This is when the pain was about an 8-9 out of 10 for me. I was taken with a wheelchair to the monitor room but once they noticed the pains getting worse and almost wanting to push, we went straight to the verloskamer. I got on the bed, was full dilated and was ready to push. The bathtub would have taken about 15 min to fill up so I had to let go of my wish and plan of a water birth. And it's thanks to this class and Shanti that I was mentally prepared to relax, let go, focus when I needed to and surpassed all the contractions without screaming once. I even remembered to do the puppy breath this time, but still tore, which is fine. They told me I could have 10 babies this way if I wanted, but I think I'll pass. Wishing you all the best deliveries and happy babies. Trust your body, it knows exactly what to do.
~ Mommy Ambar & Baby Ethan
Maandag 27 januari is onze zoon Noah geboren. Om zes uur smorgens braken mijn vliezen en om 9 uur smorgens kreeg ik weeenopwekkers. Om 2 uur had ik 3 centimeter ontsluiting, om 4 uur 6 centimer en om kwart over 5 mocht ik gaan persen. Om half zeven werd onze zoon geboren. Ik heb een prima bevalling gehad, alhoewel ik de pijn op het laatst wel erg heftig vond. Mijn man bleef goed op mijn ademhaling letten, zoals geleerd tijdens de lessen. Ik vond het fijn dat we die perstechnieken een aantal keer hebben doorgenomen tijdens de lessen want daardoor wist ik precies wat ik moest doen tijdens het persen. Dat gaf me kracht.Bedankt voor alle fijne lessen Groetjes!
~ Moeder Marloes & Baby Noah
2019
Hallo Shanti, ik heb even tijd voor mijn bevallingsverhaal zo tussen alle voedingen door????.
Als eerste is een tweede bevalling echt heel anders als een eerste. Met 39 weken werd ik rond 2330 overvallen door het breken van mijn vliezen. Dit komt in mijn familie niet voor en ook bij mijn eerste niet dus we werden een beetje verrast (gelukkig wel een matrasbeschermer gebruikt). Het breken van je vliezen betekent niet direct dat de bevalling op gang gaat komen (kan zeker 24 uur duren) dus we gingen terug in bed liggen alleen waren we allebei wel iets te excited om weer te slapen. Opzich goed want een uur later begonnen de weeen. Eigenlijk begon het best oké en kon ik het redelijk hebben allemaal (veertjes ademhaling). Al snel kwamen deze weeen regelmatig om de 5 min maar de weeen duurde maar 30 sec. Na 2 uur toch verloskundige gebeld (ze kwamen toen om 3,5 min) en zij vertelde ons dat we naar het ziekenhuis konden komen en bij te weinig ontsluiting konden we eventueel terug naar huis. Ik besloot om het nog een uur aan te kijken. Rond half 4 veranderde de weeen van intensiteit en om 4 uur besloten om naar ziekenhuis te gaan. Daar aangekomen ben ik ook hurkend richting verlosafdeling gegaan en we kwamen daar rond 0430 aan. Toen de grootste tegenvaller.. ik zat pas op 3 tot 4 cm terwijl ik al kaarsjes aan het blazen was! Hoe moest ik dit nu nog doen? Aan de CTG (gelukkig kon ik blijven staan en hurken of om de nek van mijn man hangen tijdens de weeen). Intensiteit nam enorm toe. Ondertussen werd mijn verloskundige gebeld maar zolang zij er niet was werd het bad ook nog niet gevuld (terwijl ik dat echt naar verlangde) om 0550 kwam de verloskundige eindelijk en zij kwam mij weer toucheren. Ik vertelde haar dat ik persdrang had maar dat ik 1,5 uur geleden pas op 3 cm zat. Uiteindelijk bleek ik dus volledige ontsluiting te hebben! Mijn man was onze papieren vergeten in de auto en was net naar beneden dus eerste persween moest ik laten gaan. Om 0615 begonnen en om 0626 werd Abigail Charlotte geboren.
Helaas geen badbevalling omdat eea uiteindelijk toch heel snel ging.
Gelukkig maar2 hechtingen en mochten we snel naar huis????
Shanti bedankt voor alles! Ik ben heel blij dat ik de yoga bij jou heb gevolgd. Het stuk ontspanning heeft zeker bijgedragen aan een goede bevalling.
~ Moeder Marjorie en Baby Abigail
.
Shanti, mi kier agradici bo pa e ayudo durante e les di yoga materno
Di berdad e curso ta algo maravilloso
Mi baby a nace Diasabra, ora ma dicidi di bai hospital mi tabata tin 6 de dilatación
Den menos de 2 horas baby a nace. Ma hanja den e ultimo face nervio
Pero tog mi ta corda de palabranan di Shanti habrí e curpa y esey ayuda mi hopi
E la bai hopi lihe. Danki Dios mi a logra ????????.
Shanti, sa cuanto nervio mi tabata tin. Dios bendshiona shanti ricamente y famia ????????????
~ Mama Paola y Baby Karim
.
Op maandag 2 December om 12:36pm is onze prachtige zoon Novan Cornelis Sint Jago met 38 weken en 6 dagen geboren 3310gram en 52cm lang.
Hierbij mijn bevallings verhaal, zaterdag middag dacht ik dat ik iets verkeerds had gegeten want had wat krampen maar dacht er verder niks bij. Toch niet kunnen slapen die nacht en zondag begon het te dagen dat dit voor weeën konden zijn???? Zondag nacht begonnen de weeën echt maar kon ze goed opvangen met heup draaien, warm douchen en de ademshalings oefeningen. Maandag ochtend om 9 uur naar het ziekenhuis gegaan op aanraden van de partera. Daar aangekomen en aan de monitor, kreeg ik te horen dat er nog geen weeen waren, er werd niks gemeten. En ze vonden me te rustig voor weeën van een eerste kindje. Toen zakte de moed want ik dacht als dit geen weeën waren wat staat me nog te wachten!! Ze wilde mij naar huis sturen. Gelukkig kwam stephanie zelf even langs om toch te toucheren, toen bleek ik al 7cm ontsluiting te hebben, met tranen van geluk en nieuwe kracht gingen we verder. De vliezen werden gebroken en alles werd iets intenser. Helaas na een uur was er niet veel veranderd dus kreeg ik een infuus om de weeën te versterken en kreeg direct pers drang maar ook de rug weeën werden erg zwaar maar moest op bed gaan liggen omdat ze het hartje van Novan wilde monitoren aangezien die daalde. Dat was een zwaar moment want op bed liggen met rug weeën was geen pretje maar met massages werd het weer iets makkelijker. Met extra zuurstof op mocht ik eindelijk gaan pushen op m'n zij. Na ongeveer 7 keer pushen(ik had erg weinig kracht over na 2 dagen niet geslapen te hebben) werd Novan geboren, wat een onbeschrijfelijk moment! Helaas moest ik wel ingeknipt worden maar ja met zo'n heerlijk rustig jochie nu aan je borst is het allemaal waard! Het is allemaal snel gegaan en kijk terug op een heerlijke zwangerschap en positieve bevalling mede dankzij al je tips en oefeningen om rustig te blijven en de weeën goed op te kunnen vangen dus ontzettend bedankt!!!! ????
~ Carla en Baby Novan
.
Ik ben op maandag 2 december om 10.06 uur bevallen van een prachtige dochter. Jayda Heidweiller. De bevalling ging erg snel. Ik was zondag de hele dag nog op het strand en die avond om 10 uur kwamen de eerste weeen. In het begin probeerde ik zoveel mogelijk rust te nemen en op de bal de bewegingen te doen en de veerademhaling. Toen de weeen sterker en vaker kwamen zijn we ze gaan timen en naar het ziekenhuis gereden rond 5 uur in de nacht. Ik had 2/3 cm ontsluiting en ze adviseerde me om nog even naar huis te gaan of naar het strand. Wandelen op het strand ging niet en was alleen maar aan het puffen op een stoel. Na een uur waren we terug in het ziekenhuis en had ik al 6 cm ontsluiting. Ik heb vooral gestaan en zo de weeen draaiend opgevangen met de kaarsjes ademhaling. Een uur later had ik 9cm en mocht ik gaan persen nadat ik zei dat ik een enorm poepgevoel kreeg. Op de baarkruk na 8 rondes van 3x persen werd jayda geboren en mocht ik haar zelf pakken. Een onbeschrijfelijk gevoel als je je kindje voor het eerst ziet. Onwijs bedankt shanti voor alle lessen, oefeningen en tips. Het heeft me erg geholpen de weeen op te vangen. Ik wens alle dames heel veel succes en het is waar: je bent ineens moeder en het is onvoorwaardelijke liefde.
~ Tarah en Baby Jayda
Baby Kaíri a nace ayera 2:04 pm e la pisa 3170 gr.
Parto a cuminsa 1.30 am ora cu mi vliezen a kibra. A bai hospital y a keda opgenomen. 10or Dr. a bin wak mi y e la nota cu baby a pupu den mi barica. Dus mester a bai na monitor y e pe parto bai mas lihe a haya dosis di oxitocin. Dolor tawata bin cada 2 min dus a kere mi no ta make it paso no tawata tin echt rust. Dus ja no por a hasi bewegingen mas paso ta na machine. A hasi uzo di e ademhalingen y birth affirmation pa mi a make it. Den 4 ora a habri full y den 4 pusha baby a nace. Dr. twt asina proud dimi paso no a grita nada di eseynan. Mi di cune danki na yoga les di Shanti????. So happy cu nos baby girl. Hopi danki pa e coaching????
~ Jessica y Baby Kairi
Un mucha muher di 3.9 Kg y super healthy danki Dios.
Cosnan a complica un tiki y mi mester a keda conecta na e machine for di cuminsamento. Door cu mi no a habri suficiente nan kier a hasi C-section pero ma keda firme te na final y nos a logra parto natural ????????
Ma usa e tecnica di "directed pushing" cu ba siña nos, el a bai mas facil paso ma practica cu bo caba. Tambe tur e tecnica di hala rosea door cu e proceso a bai asina largo mi por usa nan tur y ta esey lo cual a juda mi wanta asina hopi.Danki ????????????
~Isabel y Baby Emily
Hi Shanti thank you for all the learnings, nan a echt juda hopi! The process went smoother than i thought. I gave birth yesterday to a boy named Maxen
pushamenyo a dura 41 minuut.
Mi a mancha 2.30 marduga cu poco dolor mi a opta pa bin hospitaal toch, nan a toucher mo y bisami cu mi no ta nada habri
Ma bai cas bel y mita kere e toucher a lanta mi dolor nan paso di eynan mi a cuminsa hanja dolor rond 5or di mainta
Mi no por a drumi ni sinta nada
E excersize cu a judami tawata para na muraya y hasi circles
Mita kere esey tambe a judami habri paso partera a bisami bin 11:30 ma bai elo nos a hanja e big surprise cumi twt 8-9cm habri dus mester a bai dibiaha hospitaal
Mi a cuminsa pusha rond 1 or y 1.39 baby a nace
~ Michelline y Maxen
Bon dia Shanti,
Op dinsdag 1 oktober heb ik mijn laatste controle bij de verloskundige gehad, waar ze mij hebben gestript.
Dezelfde nacht om 00.00 begon mijn eerste wee. De weeën bleven redelijk constant aanhouden, deze kwamen vrij snel achter elkaar. Om half 4 zijn we in de auto gestapt naar het ziekenhuis. Hier bleek dat ik 4 cm ontsluiting had. De baarmoedermond was nog niet echt soepel, dus ze schatten in dat in rond 10.00 uur 10 cm ontsluiting zou hebben.
Gedurende de nacht werden de weeën steeds sterker. Ik heb voornamelijk de veerademhaling toegepast en daar werd ik ook rustig onder.
Om half 8 gecontroleerd door de verloskundige, ik had toen 6 cm ontsluiting en ze had mijn vliezen gebroken. Tot 7 cm was ik ontspannen en kon ik de weeën goed wegpuffen.
Rond 08.00 uur mocht ik in het bad. De weeën werden steeds heviger en ik kreeg het zwaar. In bad heb ik ongeveer 2,5 uur de heftige weeën opgevangen (ik merkte dat de kaarsademhaling hier echt werkte maar moest er soms wel even op gewezen worden dit ook te doen). Daarna ik wilde wisselde van positie. Ik wist even niet meer wat ik wilde. Heb in de douche gestaan, rondgelopen in de kamer, aan het bed gehangen. Toen bleek dat ik volledige ontsluiting had en mocht gaan persen. Dit was best een opluchting! Eindelijk kon ik wat doen! Eerst heb ik op handen en knieën op bed gezeten, daarna in de hurkhouding op bed. Ze moesten mij uiteindelijk knippen omdat de hartslag van de baby daalde (dus helaas toch wat hechtingen). Na een klein uur persen is Lise geboren om 12.33 uur (2840 gram en lengte van 50 cm). Nu genieten van ons meisje!
Shanti, super bedankt voor de informatieve en ontspannen lessen. De geleerde technieken hebben mij echt geholpen tijdens de bevalling!
Voor alle mama's: Geniet allemaal nog van de lessen, het fijne momentje voor jezelf. Jullie kunnen het!!
~ Lidy & Baby Lise
She was born on 19-09-2019 (bunita fecha) we was expecting her the 7th of October but she decided to come earlier..So my labour started tuesday afternoon, and i did not even know, i said i have pain but girlll you are pregnant what do you expect?? But the pain was not that much.. but at night i couldn't really sleep.. i woke up the wednesday morning i still had pain i moved around do what i had to do but wasnt really monitoring the pain (my mistake) At night i could bearly walk, so i called partera na warda and they told me naaahh its braxton hicks and false labour pain because i was only 37 weeks and 2 days (which was the wednesday night) i downloaded the app from contractions and was monitoring my pain because partera na warda told me that if the pain comes every 3 minutes then you are in labour.. i was like ohkay, they know best.. But thursday morning i could not hold the pain any longer, my partner went to work but he called my partera and they said just go to the hospital to make sure everything is ohkay.. asoon as he step into work he had to come back home to look for me.. my pain were every 7minutes when we got to the HOH i walked just like you told me to, walk relax stoop down hold my pain walk again until we reach, when they examen me i was 6cm open already..they said baby is coming today! Then reality hit me, because i was NOT expecting my little one to be born so soon.. she was born good and healthy!
I am proud of myself because 5 babies were born on that day all boys.. Camilah was the only girl.. and i did not need NO painkillers for birth.. and yes i was blowing candles like it was my birthday everyday hahahah especially the one where you blow count untill 10 and push again.. i can not lie, classes where my partner joined me, he was really my help, because he helped me through it allll.. if it wasnt for him and the class we went together i dont know where we would be today, because he kept reminding me how to blow when to blow candles.. i thank you and your class for everything.. it really helped ALOT!
~ Mommy Chantal & Baby Camilah
De bevalling begon vorige week zondag, mijn man ging naar zijn werk en ik kreeg weer "oefenweeen" (dacht ik). Iets pijnlijker dan gewoonlijk en redelijk frequent, maar geen regelmaat en veel tijd er tussen. Ik heb dan ook de hele dag tv gekeken om goed uitgerust te zijn. Op de skippy bal gezeten of een kaars ademhaling gedaan toen het wat meer pijn deedt.
Toen mijn man thuis kwam hebben we even in ons zwembad gezeten en zijn daarna gaan eten. Rond 20.30 ervaarde ik echte weeen, frequenter, pijnlijker en duidelijke "golven". Toen ik zo'n ontzettende lange heftige wee kreeg zei mijn instinct me we moeten nu echt naar het ziekenhuis.
De verloskundige heeft mijn vliezen gebroken en op een gegeven mocht ik echt gaan persen. Ik heb gevraagd om het bed rechtop te hebben (assertief zijn had je gezegd…) zodat ik in squat positie kon. Hoe is moest persen wist ik niet goed maar door de goede instructies lukte het! Na 15 min. persen was ze er al. 23.15 geboren! Het was dus een snelle bevalling voor een eerste baby.
Ik vond het heel fijn om goed voorbereid te zijn en ook dat we nog in het ziekenhuis zijn wezen kijken. Ik wist daardoor redelijk goed wat me te wachten stond.
Ik raad iedereen dan ook aan om zwangerschapsyoga te doen en wil je ook bedanken voor je leuke lessen!
~Moeder Freya en Baby Emilie
Hallo Shanti, ik heb even tijd voor mijn bevallingsverhaal zo tussen alle voedingen door????.
Als eerste is een tweede bevalling echt heel anders als een eerste. Met 39 weken werd ik rond 2330 overvallen door het breken van mijn vliezen. Dit komt in mijn familie niet voor en ook bij mijn eerste niet dus we werden een beetje verrast (gelukkig wel een matrasbeschermer gebruikt). Het breken van je vliezen betekent niet direct dat de bevalling op gang gaat komen (kan zeker 24 uur duren) dus we gingen terug in bed liggen alleen waren we allebei wel iets te excited om weer te slapen. Opzich goed want een uur later begonnen de weeen. Eigenlijk begon het best oké en kon ik het redelijk hebben allemaal (veertjes ademhaling). Al snel kwamen deze weeen regelmatig om de 5 min maar de weeen duurde maar 30 sec. Na 2 uur toch verloskundige gebeld (ze kwamen toen om 3,5 min) en zij vertelde ons dat we naar het ziekenhuis konden komen en bij te weinig ontsluiting konden we eventueel terug naar huis. Ik besloot om het nog een uur aan te kijken. Rond half 4 veranderde de weeen van intensiteit en om 4 uur besloten om naar ziekenhuis te gaan. Daar aangekomen ben ik ook hurkend richting verlosafdeling gegaan en we kwamen daar rond 0430 aan. Toen de grootste tegenvaller.. ik zat pas op 3 tot 4 cm terwijl ik al kaarsjes aan het blazen was! Hoe moest ik dit nu nog doen? Aan de CTG (gelukkig kon ik blijven staan en hurken of om de nek van mijn man hangen tijdens de weeen). Intensiteit nam enorm toe. Ondertussen werd mijn verloskundige gebeld maar zolang zij er niet was werd het bad ook nog niet gevuld (terwijl ik dat echt naar verlangde) om 0550 kwam de verloskundige eindelijk en zij kwam mij weer toucheren. Ik vertelde haar dat ik persdrang had maar dat ik 1,5 uur geleden pas op 3 cm zat. Uiteindelijk bleek ik dus volledige ontsluiting te hebben! Mijn man was onze papieren vergeten in de auto en was net naar beneden dus eerste persween moest ik laten gaan. Om 0615 begonnen en om 0626 werd Abigail Charlotte geboren.
Helaas geen badbevalling omdat eea uiteindelijk toch heel snel ging.
~ Marjorie & Baby Charlotte
Birth story time ????
De nacht van vrijdag op zaterdag om 23:30 zijn mij vliezen gebroken…
Op advies van de partera rustig alles klaar gemaakt, nog even gedouched etc en toen om 01:30 naar het ziekenhuis. Hier gechecked dat inderdaad mijn vliezen gebroken waren, en na 20min aan de monitor bleek ik nog geen echte weeen te hebben maar er was wat activiteit te zien, dus ik moest blijven. We zijn naar de verlos kamer gebracht en daar werd ons aangeraden om te proberen nog wat te slapen..
Rond 03:00 uur begon ik weeen te voelen en ik heb deze gewoon rustig weg gepuft en wat rond gelopen. Om 05:00 Wouter wakker gemaakt om me beetje te helpen met timen en om 6:00 bleven ze iedere 2,5min ongeveer 50sec komen. Toen de verpleging opgepiept die me direct weer aan de monitor legde om dit te checken. Daar waren ze heel verbaast over en ze hebben toen ook maar de ontsluiting gevoeld, die was al 7cm! ????????
De partera is opgeroepen en die kwam rond 8:00u..
Ik zei haar dat ik moest gaan persen, ik kreeg de weeen niet meer weg gepuft en vond dit deel heel zwaar. Na 10min gaf ze aan dat ik inderdaad mocht gaan persen thank god haha dit vond ik heerlijk!! Ondanks alle oefening bij yoga vond ik het wel moeilijk en hebben ze me moeten helpen met duwen op de buik en had ik extra zuurstof nodig maar uit eindelijk was hij daar! 09:07 uur onze baby boy geboren op de verjaardag van zijn papa :
Al met al heel snel gegaan; 9,5uur vanaf vliezen breken 6uurtjes vanaf 1e wee.
Lieve Mama's… blijf yoga ademhaling oefenen heeft me heel erg geholpen zeker in de 1e fase met de ontsluiting en de weeen opvangen! En ook zeker de puppy breath blijven oefenen!!! haha deze is bij mij helaas mislukt ???? (uitgescheurd met 11hechtingen)
Dank je wel lieve Shanti voor alle goede info en mooie relaxte lessen ????
~ Moeder Vivian & Baby Riff
Hoi Shanti. Zaterdagavond is onze dochter Merle Liz Gerfen geboren.
Na een bevalling van 6,5 uur die begon met weeën om de 5 min is ze daar dan. Nadat ze met 7cm mijn vliezen hadden gebroken, heb ik vooral in mijzelf gekeerd met de kaars ademhaling op de bal gezeten. Dit was heel fijn. 35min persen kostte veel kracht, waar ik merkte dat de kracht van de pers weeën minder was, maar met hulp van Jeroen en het team was ze daar dan om 18.41!
Ze weegt 3840 gram en is 51,5cm! Met ze 3e zijn we heerlijk aan het genieten!
~Moeder Daisy & Baby Merle
Mi kier a djis bisabo mi a haya baby marduga
Awa di yiu a kibra 9or. Yega hospital 9.30 ney y dolor a cuminsa poco poco bandi 9.45 y ya pa 12.16 ma haya baby. ????
Por a haye prome paso bandi 10.30 ya mi tabata 9cm habri pero mino tabata tin suficiente persweeën pa pusha. Despues bandi 11.30 ma pidi pa wak si mi por cuminsa pusha pero e cabes tabata mucho halto ainda. Despues a resulta cu mi awa di yiu no a kibra full pesey min tabata haya persweeën y nan mester a kibre vlies bandi 11.55 ney. Den 17 min si pusha ma haye.
Pero loke a get me tru it tabata e training excercises di bo youtube cubo a mandami y cu mi a play durante mi parto. Henter verloskamer a gaba con bon e ta y cu nunca nan a skucha algo relaxing asina????
Aunke ma falta hopi les masha danki di curason pa toch follow up y haci esaki un parto basta vlot y hopi mas importante less painful! Unico rato ma sinti dolor tabata ora di pusha e cabes di baby. Voor de rest easy peasy. Dankii Shantii????????????????
I felt you were there with me..bo calming voice a take me there to yoga practices y ma logra calma mi nerves.
~Mama Crystelle & Baby
Conseguí a mi princesa el sábado a las 7:32 pm. Las contracciones empezaron a las 3:30 am. Fue un trabajo muy duro, 16 horas con dolores. La respiración me ayudó extremadamente. Llega un momento en el que el dolor te bloquea y quieres gritar aunque no aguantas pero siempre pensaba en mis classes. Y definitivamente la respiración es lo más importante, mantener la mente libre y pensar en el bebe. Gracias Shanti por todo lo que nos enseñas a las futuras mamás ????
~Mama Kristel y Baby Aisha
2018
Tur cos a bai bon!
Aunke mi a deliver cu griep???????? e bevalling a bai bon!
4.30 hr di intense weeen en 1 contraction baby out. Mi casa a volg tur tips cu Shanti a provide! Hij kreeg een 10 van mij????
Gynaecoloog mes tawat hopi impreshona y a bisami "jullie hebben alles gedaan"
Ami y James so bezig paso HOH tawata asina druk 14 babies, ela volg tur massage tips, ela cordami y zundrami na un momento pa haci mi candle breath y ora mi tawata snap mi fingers e tawata sa pa stop di massage/no touch lol.
~Mommy Jacelyne & Baby (?)
Hi Shanty, on Friday, December 14, 2018 weighing 2860 grams and 50 cm long, our baby boy Denzell decided it was time to come to the outside world. It all started on Thursday , December 13 ( 36 weeks) at 9:35 AM when my water broke. Not sure if it was what I was thinking, I called my partera and she sent me straight to the hospital to verify if my water truly broke. I was very calm and confident that everything would be okay and that our baby boy was ready to be born. I was confirmed my water had broke and I would have to stay at the hospital, I didn't have any contractions at this point and we had 24 hrs before they would induce labor. I was taken to the Karan afdeling to wait and see if I will get contractions naturally on my own. My partner and everyone else could visit during visiting hours but no one could stay. Mild contractions started coming in the afternoon and then stopped around visiting hours (5:00-8:30PM). Around 10:00 PM I started to get mild contractions again. They weren't really consistent so there was no point in moving me to the verloskamer. I was put on the monitor twice but since I had contractions in my back they weren't being registered on the monitor. I used my feather breath technique for most of the night. The contractions started to feel stronger and I realized the feather breath wasn't working and started to blow out candles, honestly the pain became unbearable and I called the nurses. They put me on the monitor again but still they didn't see any contractions. I told them I really can't handle the pain anymore and so they called the doctor and the doctor said it was time to check how much cm I have. At 12:40 AM I was 8 CM and had to call my loved ones and the partera was on her way. Once everyone arrived, I knew it was time. It took 10 minutes to push Denzell out and welcome him to the world. Mama and Baby are healthy but still at the hospital. ????????????Shanti I really would like to thank you for the great guidance and support system you have created for expecting mothers. I truly believe that the Yoga helped me stay calm and collected. I did forget to breath in the final stages but my mind and body were calm enough to help me through it. I say it's the yoga ????????‍
~Mommy Tracey & Baby Denzell
Tur cos a bai bon durante parto..hopi danki pa tur e bon conseho nan..sin nan lo mi no twt por a yega ni 25% di e caminda????. Ja semper tur cos no ta bai perfecto mane bo ta desea, pero cu e knowledge nos hanja durante e lesnan mi a sinti mi prepara pa loke bin y esey tawata e caso. E habrimento a tarda si pero pushamento a bai rapido y den algun minuut mi baby tawata afo caba.
~Mommy Zuleima y Baby Allijah
Porfin mi a haja tempo pa update shanty di mi parto. Awe mi baby ta 2 siman y 2 dia kaba. Begin tawata difisil pero awo si tur cos ta bajendo bon.
Mi parto a bai hopi lihe. 5or di atardi dolor a cuminsa y pa 10or baby Orixienne tawata tey na mundo. Mi a haja un weeenstorm y danki na yoga mi toch por a manage e dolor (no tur momento mi a corda pa hala rosea si ????). Gerald a juda mi pa corda pa hala rosea.
~Mommy Orianna y Baby Orixienne
Parto a bay hopi liher.. Ma drenta sala di parto 9:30 am. Baby a nace 2.54 pm. Mi por a maneha e dolornan hopi bon.
Nan a vacuum e baby pasobra e tabata hopi na halto y cortami pa yuda e sali.
Pa prome biaha Dr a bisa cu mi a hacie super bon.
Awor mi tin cu duna mi curpa tempo pa recupera. E ta bay si.
~Mami Ghislaine y Baby Arabelle
Diadomingo mi a duna lus mi baby. Tur cos a bay super bon y lihe. Mi a cuminsa cu molestia diasabra y diadomingo atardi mi tawata tin contraccionnan largo cada 3 min, mi a yega hospitaal 6or pm cu 4 cm y pa 9or pm mi a dilata full 10cm. Mi baby ha nace 10or pm.
Masha danki pa tur cos. E lesnan a yudami 100% tur di nan. Un parto super bunita, mi a hari te na final (and no episiotomy needed), partero a keda sorprendi.
Know how to breath, Know how and when to push and relax between contractions, that's it!
~ Anamaria y Baby Kevin
Ik ben bevallen van onze mooie dochter Adi. Sjoerd en ik willen je graag enorm bedanken voor alles wat je ons hebt geleerd en de fijne partner sessies. We hebben zoveel dingen toe kunnen passen! Voor mij was Sjoerd letterlijk en figuurlijk mijn houvast tot het einde. Ik heb er in totaal 24 uur over gedaan waarvan 20minuten persen op de baarkruk ????????met Sjoerd achter mij. Ik heb aan hem gehangen voor de weeen en hij heeft mij met al de tips van de cursus super kunnen helpen. De bal is ook nog voorbij gekomen tijdens mijn heftigste weeen plus fijne meditatie muziek. Ik heb het bed niet aangeraakt alleen toen ik bevallen was en bleek dat ik te veel bloed verloor. Ik ben daarom nu ook nog in het ziekenhuis omdat ik 1 liter bloed ben verloren. Het gaat verder heel goed en ik knap langzaam maar zeker op. Onze Adi doet het geweldig! Wij zijn verliefd! Nogmaals dank en we zien elkaar zeker nog????.
~Eleane en Baby Adi
Hoi Shanti! Ik wil vertellen dat ons kleine meisje is geboren! De weeen begonnen woensdagavond, vandaar dat ik niet meer bij de yoga was.. Haar naam is Isa en alles gaat erg goed. Ik wil je heel erg bedanken voor de super goede lessen, want wat heb ik daar veel aan gehad! vooral de candlebreath was een echte redder in nood! De mensen in het ziekenhuis zeiden ook dat ik het zo goed deed door de Shanti yoga???? mijn man voelde zich ook erg nuttig door de partneravonden!????????????????????????????????????????
~ Annemarie en Baby Isa
Mi kier geef door cu mi a beval diadomingo y tur cos a bai bon. Mi a lanta 5:40am dolor a cuminsa escala y pa 7:21am baby a nace. partera a jega cas basta liher y setup netjes. E awa a kibra net prome cu ma pusha e baby afo. E ta pisa 7.6 lbs and still gaining ????
~ Atanee y Baby Jaxx
Tur cos a bai super bon! Un healthy baby boy di 4200 gr ????????
Hopi danki pa e lesnan…nan a yudami sublime! Y papa tambe tawata atent y ta corda riba e techniek nan di shanti
~ Nella and Baby Logan
Porfin mi a haja tempo pa update Shanti di mi parto.
Mi parto a bai hopi lihe. 5or di atardi dolor a cuminsa y pa 10or baby Orixienne twt tey na mundo. Mi a haja un weeenstorm y danki na joga mi toch por a manage e dolor (no tur momento mi a corda pa hala rosea si ????). Gerald a juda mi pa corda pa hala rosea.
~ Orianna and Baby Orixienne
I want to thank you for all the knowledge you shared with me in your yoga classes.
All the breathing techniques and positions were very helpful during the 19 hours of labor.
Masha masha danki.
~ Evelina and Baby Jules
Mi ta informa bo cu mi baby a nace 20 di Jan e tabata un parto natural, docter mester induci e pasobra mi baby a pupu, mi no por haci tur lo que Shanti a sinjami door cu mi mester queda cu e monitor tur mi labor de parto, pero si mi a controla hopi mi respiración y el bai hopi bon… mi ta hopi contento cu mi baby ???????? Masha danki pa Shanti su instrucción mi ta contento cu e resultado nan ????
~Karen y Baby Mia Isabella
Parto mes a bai super duper lihe, hoopi dolor pero tur cos a bai bon. Mi awa a kibra dia 16 jan rond di 6.45 pm. Dr. a mandami hospital y pa 8.30 pm mi tawata full admitted na hospital light contractions a cuminsa rond 10.30 pm y mi por a handle esaki nan trankilo te 12.30am. Desp di esaki nan a cuminsa bin hopi pisa mes. Uniko manera cu mi por a wanta e contractions nan aki tawata door di colga riba mi casa y mane "baila" (movement links rechts cu Shanti a sinja nos) hunto cu feather breath. Mane mi a sinta riba stoel, sinta riba maternity ball of drumi riba cama e dolor tawata worse. Prome biaha mi ta echt sinti e dolor fuerte asina paso cu mi prome yui ma hanja epidural. Rond di 2.45 am mi a cuminsa sinti e urge pa pushaa (horrible ????). Nan a check y ja caba mi tawata 9 cm. Dr. was called y mane e la yega mi a cuminsa pusha. Again feather breaths tawata kiko a yudami after cada push. Caleb was born after 4 pushes (less then 10 min pusha) y despues tur dolor was gone. Nos tur dos ta doing great. Danki pa tur e classses y tips…den mi caso nan a help sigur. Much Love????~Sulienne & Baby Caleb
Op 10 januari ben ik bevallen van mijn zoon Christian Ruiz. Het ging heel snel, 7,5 uur in totaal. Ik voelde de weeën opkomen maar ik dacht dat het allemaal niet zo'n vaart zou lopen of dat het voorweeën waren. Mijn man en ik zouden uit eten gaan met vrienden. We zijn gewoon gegaan alleen heb ik het toetje niet meer gehaald, de weeën werden te heftig. Meteen naar het ziekenhuis en toen had ik al 7 centimeter ontsluiting. 2 uur later is Christian geboren. Het persen duurde maar 10 minuten. Het ging allemaal zo snel dat ik de ademhalingsoefeningen was vergeten, maar gelukkig hebben de verpleegsters me eraan herinnerd hoe het moest. De bevalling was het tegenovergestelde van die van mijn eerste zoon. Dat duurde 36 uur en uiteindelijk kreeg ik een keizersnee omdat de baby niet door mijn bekken paste.
~N.J en Baby C.
2017
Marina Xienna Ebrina a nace 14 di juli (40 siman y 6 dia) 3:10am cu un peso di 3815gran y lengte di 52cm (grandi!) E excersizes nan a yuda immensamente cu tur e fasenan. Ma uza e bala riba cama pa leun y dsp riba cama gehurkt ta leun y trek na e railing di e cama. Ela bay hopi liher. Weeen a cuminsa bandi 8-9pm y 10:50pm nos tbt na HOH pa check. Mi tbt 2 cm so pero e weeen tbt jega 120 caba cada tanto minuut. Mi ta kere bandi 2am mi tbt 8cm cu weeen di 2 min largo cu un break di 1 min ertussen y ma cuminsa pusha 2:50am E breathing a echt yuda masha hopi mes .Den background mi tbt tin affirmations di hypnobirthing tambe cu a yuda hopi. Danki pa tur e info y lesnan it was suuuper helpfull!
~Ebrina and Baby Marina Xienna
My baby is here! Baby Ilias a nace 24 di sept. pa 10:59 pm. Mi twt in labor practicamente desde 6:00 am diadomimgo. Pa 8'or di anochi mi a yega hospital cu 8cm ontsluiting cu contractions hopi regelmatig. Mi twt hopi mas trankil e biaha aki y ta sinti cu mi a logra manage e contractions hopi miho. Sinta riba e excercise ball twt hopi comodo pami. E biaha aki mi no twt tin e persweeen fuerte dus mi a pusha ora mi twt sinti un wave di contractions. E pushamento mes a dura un mey ora y a purba 3 diferente posicion. Na final a rekeri hopi mas pasenshi ainda pasobra mi djis twt kier pa e baby a sali pa caba pero somehow mi no por a pusha effectively mesora. Partera Anita twt excelente si den begeleid mi den e parti aki.
Mi a keda visualize cu cada contraction ta mas dilation y tambe cu oxygen ta my medicine.
Mi ta hopi contento atrobe cu mi a tuma e prenatal yoga classes. Danki na Shanti pa bon begeleiding leading up na birth.
~Ilyana and Baby Ilias
Mi awa a kibra 9 dec pero mi no tbt tin contractions…mi a wordo opgenomen na hoh en 24 uur later nan a dunami pildo pa lanta dolor…..dan binnen 5 uur mi a hanja baby…..e a bay super snel….4 pushes…and she was out. Thank you for all the good tips ????
~Melisa and Baby Amira
Meet Noah Alexander Solognier. Naci 28 december 6.06am. Danki na Shanti cu tur e practice nan mi a haya un birth super lihe???????? Pami e contraction nan tabata mas dolor dan a haya e baby haha. Dia 27 mi a cuminsa haya lichte contractions. Pero mi a djis sigui hasi mi cosnan normal. Mi a bai hasi un paar di compras etc. Mi no a laga e dolor bother mi. Pero pa marduga si mi no por a wanta mas. E ora mi yega HOH 5.20 am. Y pa 5.46 partera a kibra mi vruchtwater, y pa 06.06 Noah a nace. Mi a usa tur loke nos a practice den Shanti su lesnan, tur e ademhaling techniek nan y tambe e puppyhuff. y purba tin un bon mindset y djis embrace e pain. Paso misa cu after e pain tin un bunita blessing pami y pami partner.????????
~Rachelle y Baby Noah
Mi kier a announce cu mi a haya mi baby awe y basta liher Y ma usa tur mi lessons nan cu ma sinja y blijkbaar ela yuda Ma haya dolor 11or di mainta y ya pa 3.16pm ma haya yiu???? Y dolor a val mee. Hopi danki pa tr cos???? Cristelle Werleman. It's a healthy baby girl ~Cristelle y Baby Kileyna
Mi awa di yiu a kibra 15:15. Merdia Mi dolor nan a start mas o menos 1 ora despues mi a hasi mi feather breathing. Despues mi a cuminsa haja nan mas pisa ma hasi e candle breath full te ora di pusha mi a pusha super bon! Y mi a logra hasi e puppy breath. Mi baby a nace 19:29 Danki pa e guia y cu e practica nan aki a judami super bon!
~ Roxanne y Baby Sophie-Marie Elizabeth
2016
Mi kier e pone Shanti na altura cu ayera mi a cumpli 38 siman y di diasabra ma sinti dolor , ayera ma cuminsa sinti dolor cu bariga ta bira duro. 12 or pm nos a cuminsa monitor e dolornan y pa 5:30 pm mi a yega HOH cu 7 cm habri. Mi tawata sinti hopi mas mihor riba mi rudia cu elleboog te ora ma yega 10 cm y pa 8:04 pm ma haya baby girl den Squat possicion. Mi tawata pensa hopi riba tur cos cu ma sinja durante les vooral e rosea !y mi ta recomenda tur hende na estado pa bay e yoga les paso di berdad nos ta sinja hopiiii y cu a yuda hopi durante parto y kisas asta desp awor cu baby. Mi kier a gradici Prana team completo pa e pasenshi, tur e tips nan y tur e lesnan bon brinda. Mi experencia tawata unico cu ayudo di mi pareha, cu a duna tur di su banda y tur loke el a sinja den les el a practica durante parto , di mi mama y mas cu claro cu ayudo di Prana! Hopi danki
~ Xilienne y Baby Xeena
Mi a haya mi baby dia 8 di juni 12.15. E a bai super bon, doloroso pero lihe. Mi a cuminsa haya dolor banda di 6or dia 7 di juni. Pa 7or mi a bai cana un ora banda di lama cu mi casa, mi twt haya e dolornan cada 4 min, mi twt practica mi halamente di rosea. Ora nos a yega cas mi a baña y prepara. Mi twt controla mi contraccionan cu un app riba mi ipad. Ora mi a wak cu mi twt cla pa bai hospital mi a yama mi partero. Nos a bai mi a yega 10.35 pm, nan a hasi tacto, mi twt 4 di dilatacion. Nan a lagami di biaha na hospital, mi a prepara mi music e kamber na mi gusto, mi a keda move henter e ora, practica e halamento di rosea den cada contraccion. A yega un momento cu mi a haya gana di pusha mi a bisa e partero e ora nan a controla mi twt 7 di dilatacion, e a kibra e awa, despues di esey a bira hopi dificil pa controla e respiracion door di e gana di pusha, y despues den menos di 10 min mi twt cla pa pusha. Mi a pusha un biaha e cabes a sali y e di dos biaha e curpa a sali. Nos tur a keda sorprendi con lihe e a bai. E baby a nace 12.15 dus den menos cu dos ora. Mi prome baby a tarda 12ora dus un diferencia grandicimo. Masha danki pa tur e tips, sin e prenatal yoga mi ta sigur e no lo a bai asina lihe.
~ Yesica y Baby Ian Alexander
Mi a give birth 22 di mei, nos princess a nace 11:45 AM na hospital. E twt un bavelling di casi henter dia. Mi weeen a cuminsa banda di 12 or di anochi, banda di 2 or nan a cuminsa bira mas frequente y ma saka un klompi di sanger, e ora partera a advise pa mi bai hospital. Ora nos a jega 2:30 am mi dilation twt na 4-5 cm caba dus mi a wordo opgenomen di biaha. Mi awa di yiu no a kibra y banda di 8 am partera a jega y ela kibra mi awa. Weeen a bira hopi mas intense. Constant mi a hasi mi breathing excersises dus esey a judami hopi bon! Mi a duna natural birth y mi mester a pusha ongeveer 6 biaha plus un zuster a pusha mi bariga pa asina e baby por a sali. E push techniek cu nos a sinja den les twt hopi helpful y a judami hou vol pa pusha. Hopi danki, mi ta hopi contento cu mi a volg e lesnan di prana. Ela judami concentra, keda kalm y pa cope cu e dolornan y ki pa hasi.
~ M.A.K y Baby A.A.A
Eindelijk is het zover! Na 41,3weken wilde Isa de wereld ook eens van dichtbij komen bekijken ???? Het is allemaal vrij snel gegaan! Gister bij de vk gestript en toen al 4 cm ontsluiting! Uiteindelijk is het rond 22.00uur echt gaan doorzetten en waren we om 23.30uur in het ziekenhuis met 7cm ontsluiting! Jij hebt in 1 van je lessen verteld dat de 8cm hel is.. Nou kan je vertellen; dat was zo haha! Die weeën waren het heftigst om op te vangen! Maar uiteindelijk goed gelukt, wel allemaal met een iets hardere veerademhaling ???? de kaarsjes wilden niet echt lukken! En 1x met succes als de puppy nagedaan maar helaas met de laatste pers heel onverwacht toch ingescheurd en nog een kijkje mogen/moeten nemen op de ok.. Uiteindelijk is isa om 2.30uur geboren! Nu minimaal 48 uur in het ziekenhuis blijven en dan zien we verder! Maar, zoals toch bijna iedereen wel zegt, super bedankt voor je lessen! Vooral het ontspannen tussen de weeën door werkte bij mij goed en bij het persen hoorde ik alleen maar; ogen open!! Gelukt ????
~ Rene en Baby Isa
Zaterdag is mijn lieve zoon Eliás Amáro geboren. De bevalling ging heel vlot. Om 8.30 ging ik op de monitor waarna bleek 5cm ontsluiting. Om 23 uur begonnen de persweeën en na 4 keer persen, kon ik om 23.22 mijn jongste zoontje vasthouden. Vanwege het tijdstip was het beter dat ik een nachtje in het ziekenhuis bleef. Natuurlijk heb ik heel veel gehad aan je lessen over de bevalling.
~ Margareta en Baby Elias
2015
Met heel verl vreugde en geluk vertel ik je dat onze dochter, Mae Justina Maria Williams maandag 7-12-'15 om 10:12 uur geboren is. 3305 gram en 52 cm lang! Ik heb heel veel aan je ademhalingstechnieken gehad en zowel mijn partner en ik zijn je erg dankbaar Ik kon de verschillen fases van de bevalling goed herkennen en daardoor weten wat te doen en te proberen, hierdoor goede focus en concentratie…Ik vond zelf de grote bal erg prettig tijdens de weeën. Ik zat dan voor het bed op de bal met hoofd hangend op kussens op bed. Lichte weeën "wippend" op bal, maar de meeste ging ik voor staan. Heb alle ademhalingstechnieken toegepast: veer, kaarsen, en ja ja zelfs de….. PUPPY! Daar was ik vooral trots op. En benadruk het nog maar meer met de dames: het WERKT ECHT! Want oei wat zijn die laatste weeën pittig! Nogmaals dank voor je geweldige yogasessies en alles wat eromheen werd georganiseerd. Aan alles heel veel gehad. Veel liefs,
~Andy, Renate en Baby Mae
Nan a bisami nan ta warda 24 ora pa wak Si mi weeen ta bin di su mes Mi awa a kibra dia 22 pa 6 or di mainta y mi mester a bay HOH y nan a neem mi op dibiaha . Ayera mainta docter a bin y e la pone un pildo den mi vagina pa wek e op pero e no a hasi muchu cos Pa 13:30 nan a dunami e infuus pa wek op… Y pa 18:50 Elise a nace Ma husa e bala hopi pso mi no tbt por cu e dolornan riba cama. Nan kermen esey a judami habri lihe. Cada contractions mi tbt lanta fey e bala leun voorover riba cama y move mi heupnan pero cu mi rudianan tiki dobla y off course e breathing tbt hopi importante, Esey a calma e dolornan… Tin biaha mi tbt lubida di breath bon pero pesey mi a pidi mi ruman Angie pa ta eynan cumi como mi coach.Ma scheur un tiki paso Elise su schouder tbt pega y nan mester a bay aden pa jude. Masha danki pa e lesnan, nan a echt yudami cu e parto, Paso Si mi no tbtin e lesnan mi no lo por a hasie.
~ Monique en Baby Elise
Mi kier a lagabo sa cu nos ta hopi hopi contento di por a welcome nos di dos princesje Mairi Amelia Harms dia 12 di october. E ta un dushi dushi baby cu a nace ta smile y ta drumi bon anochi lucky us e parto a bai super lihe atrobe mi a lanta 5am cu harde buiken y mi a perde un tiki vruchtwater, contractions mes a cuminsa duidelijk 6.30 or ora cu nos a dicidi bai hospital y pa 8.20 nos baby a nace. E biaha aki tur cos a bai asina lihe especialmente e pushamento cu mi unico tool twt e rosea di bela, e twt un saver! Nos ta den seventh heaven cu nos dos princess, esun grandi ta masha cute mes cu su "bibi" hopi hopi gentle y protective! Danki Shanti, e lesnan di Yoga ta haci un differencia enorme y mi lo sigui recomenda Prana na tur e future mommies! Un sunchi!
~ Yadira y Baby Mairi Amelia
Un kleine update. Cain Eduard Alexander Croes a nace awe, 10 October 2015, om 9:29 PM. Sin yoga mi no sa kon mi lo a hasi awe. Mi lo ta forever grateful pa Shanti i Carina. Mi a usa e breathing exercises i mi lo recommend e les na ken ku ta ku puntrami kon ma keda rustig i focused asina ora ja tawata zo ver. Den 2 pusha ma welcome mi baby boy den e mundo ki. Mester a usa e doggy breath pa no push'e den un solo pusha i ela juda ASINA hopi. Mi tin un heel klein scheurttje ku no mester hechting. E lo kura riba su mes. Danki pa tur kos Shanti.
~ Jillyzah y Baby Cain
Maandag 1sept om 23.13u zijn wij trotse ouders geworden van een mooi meisje Lizelotte. Een bevalling van 4u tijd. Ik ben om 19.15 begonnen met krachtige weeën, sprong heel snel van 3 naar 6 naar 9 cm. We wilden in het ziekenhuis bevallen, maar dat konden we niet meer redden. Thuis bevallen maakte het heel intiem en relaxed. Ik heb alle weeën opgevangen door op een handdoeken rekje te leunen, heb ontelbaar veel 'kaarsjes uitgeblazen. Tijdens het persen heeft de puppy breath ervoor gezorgd dat ik het persen kon onderbreken en ben niet uitgescheurd. Ook heb ik uiteindelijk Lizelotte zelf, onder begeleiding van de verloskundige eruit kunnen halen vanaf haar schouders, zo bijzonder! 23.13u lag ze gelanceerd op mijn Belly! Een grote verrassing was het geslacht.. Een meisje, geweldig! Lieve Shanti, Hopi Danki voor alle leerzame momenten tijdens de lessen.. Ik heb er veel aan gehad!
~ Veel liefs, Joost Angela en Lizelotte ????
Vorige week maandag 19 januari is onze dochter Alina Sophia Flanegin geboren.
Bij haar geboorte woog ze 3215 gram en ze was 51 cm lang. De bevalling is wederom heel erg snel gegaan. Ik was uitgerekend op 17 januari. Als er niets zou gebeuren, moest ik op maandagochtend 19 januari ingeleid worden vanwege mijn leeftijd (44 jaar). Op zondag 18 januari om 7.00 pm verloor ik een bloedpropje. Om 8.00 pm begonnen de weeen (hele lichte weeen om het kwartier). Tijd genoeg om rustig te douchen en de andere 2 kinderen weg te brengen. Om 9.30 pm in het ziekenhuis. Daar was ik pas 2 cm ontsloten.Gezien mijn geschiedenis van snel bevallen kreeg ik om 10.30 pm reeds een verloskamer toegewezen. alle verloskamers waren toen bezet. De weeen werden al snel veel sterker. Ik voelde het kindje naar beneden zakken. Ik was inmiddels 3 cm ontsloten. Toen ging het heel snel. Na een stortvloed van intense ontsluitingsweeen, die niet leken te stoppen (op dat moment kneep ik heel hard in mijn vuisten, bleef rustig, deed de ademhalingstechnieken, wilde absoluut niet gemasseerd worden door mijn partner en dacht ondanks alle hevige pijnen aan jouw woorden van de yoga-lessen: 'laat je baarmoedermond verweken/zacht worden') kwamen 2 golven van persweeen. Om 00.50 am, het was inmiddels 19 januari, is Alina Sophia geboren. Dr. was er te laat bij (net als mijn vorige verloskundigen) bij mijn vorige twee bevallingen), maar er was een verloskundige van het ziekenhuis die me goed hielp (Sharda). Zij wilde Dr. niet bellen bij 3 cm. ontsluiting en gezien het feit dat ik zo rustig bleef. Al met al een mooie bevalling en we voelen ons gezegend met dit prinsesje. Zij is tot nu toe een heel rustig kindje en drinkt goed aan de borst.
~ Anna en Baby Alina
Tur cos a cuminsa dia 11 Nov pa 12.30am. Riba cama bayendo leeuw mi a sinti mane algo kier a sali mi a lanta lihe for di cama(cu tur e bariga grandi ey), y algo a sali basha. Mi partner a bula hunto cumi y a bise sende e lus paso mi no tin sigur si ta mi awa di yiu. Y enberdad loke a basha pami twt esey paso e no twt tin color. Believe it or not, mi no a experiencia esaki cu mi 2 yiunan anterior dus pami e twt algo nobo pero master mi echt twt kier a pasa door di dje. Mi a keda pending paso mi no twt tin dolor. A bolbe riba cama pero ja no por a drumi paso mi sa cu e ora nan twt bay jega . Despues mi a bolbe sinti mas awa basha dus asina mi a keda. Mi a bisti mi mea nan y a dicidi cu ta bay dal rondjes den e scuridad di mi cas. Shanti tnx pa e tip nan aki. Mi twt rest rato rato den stoel pero mi a move masha hopi. Dolornan a cuminsa bin pero leve y cortico. Mas den careda di 5.00am por bisa nan twt bin un poco mas fuerte y 10 min/15 min apart. Pa 6or ney mi a bisa mi partner cuminsa prepara mi otro yiu pa bay na su wela paso baby ta bay bin awe mi a hasi mane shanti a bisa. Laga e dolornan bin jama nn bon bini y a traha cu rosea. Rond di 8.00am a jama mi partera y a splike y a bisa nos pa bay hospital. Ainda mi a keda 30 min mas paso mi ta biba na noord y ta serca toch. 8.30/8.40a jega y monitor a mustra cu mi dolornan no twt regular dus un rato 4 min un rato 7 min etc pero a confirma cu mi awa di yiu a kibra dus mi a keda. Partera a geef door pa no check mi cm pa evita infeccion mirando cu ta trempan mi awa di yiu a kibra. Mi a drenta verkoskamer rond di 9.30/10.00am ja aki mi no twt wak ora mas paso e dolornan a bira mas fuerte y segun mi partner cada 4 min. Mi a keda cana y bay banjo pero mucho no twt sali haha. Mi a bisa mi mes cu e yiu aki ta bay bin mas lihe y mi a purba keda positivo te final cordando e lesnan y info cu mi a ricibi. A chek cu nurse nan y nan ta bisa nos cu partera ta na caminda y ja mi twt sinti cu hey baby no ta bay wanta mucho mas!! A cambia panja y bisti shimis di luho. Mi ta sinti cu baby kier bin y para na cama cu dolor mi a cuminsa pusha sin mag. Mi mama ta bisami bo kier pusha? Mi ta bise e baby ta bay bin y ata tur nurse eyden prepara y partera so twt falta. Aki nan a cuminsa bisami pa subi cama y mi ta corda cu mi a hisa bos y bisa nan mi no por. No ta cos cu mi no twt kier pero baby twt eynan caba. Den esey partera a jega y papia cumi pa asina e dolor pasa subi cama. Mi a purba y yep baby su cabes twt eynan caba. So partera a bisa mi ki pa hasi ta locual shanti a mustra nos tambe y den 2 pusha di 1 rond mi dushi Erian a sali ta grita so. Ki felicidad. Danki Shanti mi mama y partner a bisa cu yoga a judami di berdad. Un braza y sunchi y cumindamento pa tur.
~ Erilu Arcaya y Baby Erian
2014
Nan a lanta mi dolor dialuna cu pildo y tur e dia ney mi a keda hopi relax y train hala rosea y poco poco e dolor nan a cuminsa bin. Mi tawata falta 3 cm pa boca di matris bira full plat y twt 1 cm habri.Pa diaranson 5:30 am mi awa di yui a kibra y mi dolor nan a bira masha fuerte mes unico cos ma haci ta hala rosea y cana keda move. Mi tawata 2 cm habri.Pa 9:30 dokter a bin wak mi y mi twt 3 cm y nan a pasam pa verloskamer. Ora ma drenta ey den ma pidi pa e bala y ma sinti riba dje y keda move. Mi partner tawata massage mi lomba y judam dor di bisam hala rosea y tende mi hala rosea paso cu e infuse e dolor nan tawata keda bira mas fuerte. Pero e halamento di rosea a judam hopi y pa mi habri tambe. 11 or nan a wak mi y mi tawata 5 cm e ora ma keda riba cama drumi y hala rosea constant e ta juda sinti e dolor menos. 11:45 nan a bolbe wak mi y mi tawata 7 cm y den 10 min ma habri pa 10. E dolor nan di 7 pa 10 tawata hopi fuerte y e feather breathing a judam. Ora a jega ora di pusha ma pusha mi baby den 25 min. Ora e cabes tawata sali cu ma sinti e kimamento y mi dokter a bisam no pusha benta mi cabez patras y haci e puppy breathing y esei a bai awesome paso mino a schuur ni nada.tur cos a bai fast y nice. E tips nan cu ma sinja y tur breathing excercise a judam hopi. It was a wonderful experience and it was all worth it now that i have my baby girl with me.
~ Sharianne y Baby
Bon tardi, masha danki. Tur cos a bai hopi bon danki Dios. Isabella a nace dia 12 oct pa 1:25am y e la pisa 3250. Danki pa tur cos Shanti e lesnan a judami hopi. mi a sinta hopi riba e bala y a hasi e rosea di bela y di pluma????baby a nace den 3 pusha 15 min
~ Laura y Baby Isabelle
Bij deze wil ik je nog laten weten dat we trotse ouders zijn geworden van Robin! Hij is afgelopen vrijdag geboren en vandaag zijn we samen thuisgekomen uit het ziekenhuis. Mijn vliezen waren. gebroken, maar de weeen bleven uit waardoor ik ben ingeleid. Even een omschakeling, want we hoopten op een thuisbevalling. Voor de bevalling smidsdags even een momentje voor mezelf genomen en veel aan je lessen gedacht en vooral dat ik altijd nog mn ademhaling had;). Om 5 uur kreeg ik de eerste prikkelingen in mn buik en toen ging het erg vlug. Ook mede dankzij je partneravond was Maarten een geweldige steun, hij zei en deed alleen maar de goede dingen. Ik vond de pijn heftig en de weeen kwamen elke 1,5 minuut. Maar ik bleef heel rustig en geconcentreerd. Alleen de verpleging kwam op een gegeven moment binnen en zeiden dat ik van de ingediende medicatie alleen nog maar "buikkrampjes" had en die ook nog niet weg hoefde te puffen. Dat bracht me wel even uit mn balans en ik dacht als dit slechts krampjes zijn, spuit me dan maar plat.???? Doordat mijn vliezen waren gebroken, mocht ik niet worden getoucheerd. Maar na een uur zagen ze tot hin grote verrassing dat ik persdrang had. Toen werd ik hky opgeroepen en heb ik nog zo'n 10 weeen met de puppybreath opgevangen. Uiteindelijk is Robin in 3,45 ter wereld gekomen. Tijdens de bevalling heb ik echt veel aan je lessen en woorden gedacht, dus daarvoor wil ik je nog graag hartelijk voor bedanken! Hoewel ik de bevalling heftig vond, vond ik vooral ook een geweldige ervaring om de kracht van de natuur en je vrouwelijk lichaam zo intensief te ervaren en aan over te kunnen geven.
~ Jenneke en Baby Robin
Siman pasa diaranson mi birthing process a kuminsa banda di 6 or atardi. Pa ora ma msg e partera e la bisami bai hospital dibiaha. Pa ora ku mi a jega aja nan a chek mi. Na kuminsamento nan a bisami mi por bai kas paso e machine no ta register e weeen. Dus segun nan mi no twt tin weeen. Pero ami mi awa di jiu a kibra bandi 5 or na kas y mi twt tin dolor. Iig mi a bisa e nurse ku mi tin hopi dolor y gana di bai af. E ora e la jama e partera bek y e partera a bise no lagami bai kas. E ta bini hospital. Ora ku e la jega e la tucheer mi y a bisami ku e baby ta full den posishon djis ku su kabes no ta den posishon paso e twt ku cara abow. Y ku si e no bira nan mester operami. Ku e ta dunami dos options. Nos ta jama specialista pa operami of mi ta wanta te ora mi habri mas pa wak si e ta bira sino ta opera. E jammer di esey lo twt ta ku ja ma wanta full e dolor pa toch uiteindelijk opera. Pero mi no a worry ma bise mi no kier opera. Y ainda tin e chens pe bira dus ma bise nos ta warda. E ora e la neem mi op. Y a bisa den mas o menos 3 ora ney e lo check on me pa wak kon e dilation a bai. En todo caso e ora ey ainda mi tabatin 3 cm so habri. Well e la bai. Mi dolornan a kuminsa bira hopi hopi fuerte y hunto ku mi excercises ku mi a sinja serka bo mi tabata meditando. Dus vanaf prome momento mi a keda medita te na ultimo y hasiendo mi moveshon nan y mi rosea. Mi hasta twt kana durante e weeen. Mi no por a squat. Ni sak ni usa e bala kasi. Ma djis subi e stoel ros ku tin den e room hinka rudia y keda medita y move mi heup mane bo a sinja nos. Asina ma jega te ultimo ku mi a bisa e nursenan varios biaha ku mi no por wanta e gana di bai af. Nan a keda bisami wante paso te baby ta press etc. pero ami twt convinced ku mi djis twt kla pa mi baby nace. Ma bisa mi casa msg rushlenda. Mi no por mas. E ora partera a mandanan tucheer mi, esey twt dsp di 2 ora y mei ku e la bai. Well e ora ey e nurse a spanta e di bo ta fully dilated. E ora nan a jama e pediatrician y partera pa e bini. Pa 1.08 AM mi baby a nace despues di pusha dos biaha so. Mi a squat y a pusha den squat position. Ora su kabes a sali mi casa a sake y a dunami e. Mi tin di bisa ku e ta e most beautiful experience ever. Mi no a grita mi no a jora. Mi a djis focus medita y hala rosea trankil. It was very painful pero awe mi ta un proud mama di un healthy baby boy. E jama Khai Khenti Illes. Mi ker a gradicibo hopi pa e dedicashon y ayudo durante e lesnan. Saludos y hopi exito verder ku bo excellent job ????.
~ Nohely y Baby Khai
Diabierna nos a bira e proud proud ouders di un dushi poppetje Faie Amarile Harms. E parto a bai hopi bon mi a realisa cu mi twt hanjando contractions banda di 5'or. E dilation a cuminsa normal te cu 3\4 cm y djei e la bula bai 8 den un ora, nos a yega hospital net pa cuminsa pusha y 11.12 nos pop a nace. Ful e processo a bai hopi smooth mi ta kere en gran parti door cu nos twt hopi rustig e rosea di pluma twt mi saviour te na final. Super thank you!
~ Yadira y Baby Faie
Diasabra mi a wordo bendiciona cu un baby girl….mi a hjn dolor 9 or pm mi baby girl a nace 11.17 mi a usa varios techniek cu shanti a siña nos…..E twt un rato di dolor pero tmb di goso…..
~ Dayanara y Baby
Awe mainta pa 5.25 mi a duna lus na un baby mucha muhe parto a bai hopi lihe e halamento di rosea a yuda HOPI HOPI masha danki pa esey????ora mi a yega hoh mi twt cla pa haya dus 3 pusha y baby a nace. Baby a nace cu 36 siman un poko tempran pero nan tine bow observashon. Masha masha danki di curason???????? Mi casa a manda bisa Danki na e informacion nan cu ela maak mee a yude keda hopi rustig ela bisa masha danki????
~ Shamira y Baby Xienna
Ainda den hoh pasobra baby tin poco gelezucht. Bevalling a bay super … Pijnlijk maar mi a keda pensa riba loke ba sinja nos den les .. Ademhaling en niet schreeuwen en zo dus ma haye den 2.5 uur
~ Joasy y Baby Ziva
Bon nochi Shanti, mi kier a laga Shanti sa cu awe dia di amor, mi baby girl a nace 9:05am. Mi kier a bisa Shanti un danki pa sinjami breathing techniques and beyond cu siguramente a yudami cu mi parto natural.Mi a cuminsa haya contraccion 3or di marduga pero nan a mandami bai bek cas y by the time cu mi a bin bek 7:30 di mainta, mi tbt entre 8-9cm caba. E parto a bai vlot y mi a purba di pone den praktijk tur e breathing techniques. Danki dios cu mi a keda bst trankilo, na final so mi mester a grita mi alma pa saca e cabes hehehe. Pero un biaha mas, danki y mi lo sigui recomenda prenatal yoga!
~ Anónimo
Finally mi ta un tiki back on track y a hanja tempo pa msg bo! Despues di a keda 3 dia den HOH pa wordo ingeleid, nos healthy baby boy Kai Luka Ruiz a nace, 22 mrt '14, 53cm, 3575gr???? Mi parto a bay hopi lihe, totaal 9ora. Mi a hou vol 5ora SIN pijnstillers! Mi no por a hasi mucho paso mi twt tin infuus y plus monitor pa wak e baby su heartbeat y mi weeenan, dus cana etc twt out of the question, pero si mi a para letterlijk 5 ora largo y hasi e 'merengue dance' y mi a huza e birth ball pa draai cumi heup. Esey a yudami hopi. Nadat tur cos a bay hopi lihe, nan a double e dosis di infuus mi a bay riba cama cu atrobe mas iv y machine y awo si cu pijnstillers, y den 1 ora mi por a pusha…. Letterlijk hopi lihe y veryyy painfull! E weeenan twt bin tras di otro y HOPI intense! Ora di pusha nan a wak cu e baby su heartbeat twt drop dus dr huisman a bay over pa vaccuum y episiotomy???? den 10 min he was out. Ora e la nace nan a hanja un knoop den e navelstreng cual twt e reden pa a sake lihe afo. Mi ta na cas healing, loving, smiling y enjoying cada minuut di Kai! Nos ta letterlijk in love cune!!! Thx again for everything, alle tips cu bo a siña nos, the breathing technique DOES REALLY HELP!!! Grtjes pa tur hende ????
~ Shayne y Baby Kai
Awemainta mi prince chikito Vince Mason Moore a nace..it was one heck of a ride pero turcos a bay bon cu mami y baby..ma lora cu tur e breathing tactics te ora cu e persweeen a cuminsa..pero ma logra keda cas te ora mi no twt por mas..pa ora cu mi a yega hospital mi twt full dilated caba y mi awa di yiu a kibra na cas caba..mi a check in 9or di mainta..9.05 mi twt pusha (ora cu ma yega nan kiermen cu mi a crown caba) y 9.17 mi por a wanta mi baby den mi man..e no twt facil..ma pasa hopi dolor na cas..pero mi ta hopi contento di tawata bon prepara pa esaki mentalmente y fysicamente..danki pa bo ayudo!
Much love Ronica, Marlon y Baby boy Vince
16 feb is Claire geboren!! 54 cm en 3849 gram!! Alles is heel goed en snel gegaan! Heb mij totaal in mij zekf gekeerd en alleen gericht op mijzelf! De vk kwam thuis en had al 7 cm! Toen naar ziekenhuis en daar ging het ook allemaal zeer voorspoedig!!(en nog helemaal intact.. Hihi). Ik wil je heeeel erg bedanken!!! De ademhalingtechnieken hebben mij er helemaal doorheen geleid!! Nogmaals many thx!!!
~ Kirsten en Baby Claire
Mi no ta bai less mas pa motivo cu ma hanja mi baby diaberna. El a adelanta pa bin cu st valentin. Parto a dura menos cu 45 min. 5 or ma jega hospital y el a nace 6: 04 despues de 5 pusha .Danki pa tur cos
~ Johanna
2012
Op 18 mei kreeg ik een beetje buikpijn s'morgens en dacht dat ik een grote boodschap moest doen. Het bleken echter weeen te zijn. Nu pas merkte ik dat alles wat Shanti vertelde, ergens op je harde schijf zit opgeslagen en je weet wat je moet doen. Zo vertelde ze niet alleen hoe je je weeen moet tellen, maar tijdens de partneravond is ook mijn vriend goed voorgelicht over wat hij moet doen als de bevalling zou beginnen. Ik ben, omdat ik elke vier minuten kramp voelde, naar het ziekenhuis gereden. Ook dit was fijn, omdat we met Shanti een rondleiding hebben gehad in het ziekenhuis, en ik nu precies wist waar ik moest zijn en wat me een beetje te wachten stond.Omdat ze bij mij de weeenmeter per ongeluk niet goed hadden aangesloten, dacht men in het ziekenhuis dat ik geen weeen had en wilden me naar huis sturen. Tijdens de lessen bij Shanti is ons op het hart gedrukt altijd naar je intuitie te luisteren en gelukkig heb ik dit dan ook gedaan. Ik wilde niet naar huis en de weeen werden steeds heftiger. Ik heb veel gehad aan de oefeningen die we hadden gehad, en voor mij werkte de "merengue" oefening en het hangen aan mijn partner het beste. Ik heb, heel eigenwijs, de vroedvrouw gebeld, die na een half uurtje al aanwezig was en aan mij zag dat ik toch echt wel weeen had! Ondertussen had ik in anderhalf uur tijd zes centimeter ontsluiting! Gelukkig dat ik dus niet naar huis ben gegaan! Ik ben naar een kamertje gebracht en heb daar nog een kwartier weeen gehad, toen mijn persweeen al begonnen. Dankzij de oefeningen van Shanti, waar je leert hoe je goed moet persen, was ik na een half uur de trotse moeder van een prachtig meisje Sophie! Ook de vroedvrouw merkte op dat moeders die bij Shanti les hebben gehad, veel rustiger en relaxter de bevalling in gaan en zo heb ik het ook ervaren. Omdat je bent voorbereid ( je hebt er natuurlijk nooit helemaal de controle op ), ga je veel relaxter om met wat er met je lichaam gebeurt en leer je om je mee te laten voeren. Je lijf neemt het over en als je goed ademt, lukt het allemaal goed. Dus dank aan Shanti!
Wat extra leuk is, is dat ik er nu drie goede vriendinnen aan heb overgehouden, die allemaal achter elkaar moeder zijn geworden ( ook leuk voor later!) , en we nu ook samen zijn begonnen met de baby yoga lessen. Ook dit is geweldig, je leert hoe je beter contact met je kindje kunt leggen, hoe je samen met je baby kunt ontspannen, hoe je kleine kwaaltjes zoals krampjes kunt wegmasseren. Ook krijg je oefeningen om je lijf weer in vorm te krijgen en oefeningen voor thuis, voor zowel moeder als baby als voor beiden tegelijk. Het allermooiste van de lessen, is dat je helemaal jezelf kunt zijn, en je trots op jezelf bent als de les weer is afgelopen. Je leert jezelf accepteren hoe je bent en nu ook als nieuwe moeder. Ik hoop dat ik dan ook nog lang kan/ mag genieten van alle leuke en leerzame lessen van Shanti!
~ Juliette en Baby Sophie
Ik ben 13 mei jl. – op moederdag- bevallen van een zoon. Hij woog 4090 gram en was 54 cm. Een flinke boy dus! Maar dat was te verwachten met die enorme buik van mij ;-). Zo bang als dat ik voor de bevalling was, zo rustig ben ik de bevalling ingegaan. Ik denk echt dat het komt door alle voorlichting van jou! Serieus! Rond 1 uur 's nachts brak mijn vruchtwater deels, ik had toen nog geen weeen dus ben gewoon gaan slapen. Ik was heel rustig en had zoiets van; laten we het allemaal maar over ons heen laten komen. Rond half 4 begonnen langzaam aan de eerste weeen, die rond 6en heftiger werden. Om 10 uur kwam de partera toucheren en toen had ik al 5 cm ontsluiting, we zijn toen naar het ziekenhuis gegaan. Om 11.15 uur had ik 8 cm en om 12.30 had ik 10 cm ontsluiting. Het ging dus allemaal vrij vlot. Helaas kreeg ik geen persweeen (ik wist niet eens dat het kon;uitblijven van persweeen), hierdoor hebben ze fundus expressie moeten doen. Ik moet zeggen dat was wel echt de hel qua pijn, maar ja uiteindelijk kwam hij er dan toch uit. De pijn van de weeen (rugweeen had ik) kan ik niet meer goed voor de geest halen, dat is toch een mooi trucje van de natuur. De pijn van de expressie staat me nog wel bij, in die zin ik weet dat het vreselijk was. Het exacte gevoel, kan ik ook niet meer herinneren. Tijdens de bevalling raak je echt in een soort trance, precies zoals je zei. Jouw tip om je op een bepaald punt te focussen heeft me ook erg geholpen om goed mijn ademhaling te kunnen blijven doen. Ook heb ik echt heel veel aan m'n man gehad, hij was echt mijn steun en toeverlaat. De partneravond heeft hem echt de juiste handvaten gegeven om mij te begeleiden. Op een gegeven moment zag ik het niet meer zitten en toen had ik 8 cm ontsluiting, hij zei meteen 'weet je nog dit is het breekpunt waar Shanti het over had, nu moet je nog even doorzetten'. Hierdoor kon ik weer de knop omgooien en gewoon met de weeen meegaan. Van de oefeningen heeft de 'merengue oefeing' en het hangen aan je partner me het meest geholpen om de ween op te vangen. Ook gewoon rondjes lopen, hielp goed. In het ziekenhuis heeft met name het focussen op het stressballetje dat ik in mijn hand had geholpen (don't ask why haha).
~ Anoniem
Cesarean Birth/Parto Cesarea
My labor started that Monday night after the workshop class, I was over 41 weeks at that point. It progressed slowly on Tuesday during the day, but Tuesday night into Wednesday the contractions were feeling very painful. I was trying everything to manage the pain; using the ball, having my husband apply counter pressure, BREATHING LOL (it really was helping). I waited for as long as I could (haha little did I know how much worse it was going to get) and we went to the hospital thinking it was getting close. I was only at 1 cm!! I couldn't believe it since I was in so much pain, esp. in my back. They sent me home with something to help me "sleep" (that wasn't going to be happening). Then at 1:00 pm Wednesday afternoon my midwife came to the house to check and there was no progress once again and I decided to have my care transferred over to the gynecologist. Long story short, my labor just wasn't opening me up at all, they broke my water and gave me labor enducers and at the most I ever got was 4 cm. The baby was sunny side up and his head was hitting my tail bone causing an
awful involuntary push of my bowl muscles on every contraction. This was very frustrating
since everyone told me not to push,but it was not something in my control!! Mason Alexander Lesire was born 1:00 am via c-section on Thursday October 10th, 2013. A healthy 3,220 grams, 52cm long. I so didn't want the c-section but after over 48 hours of hard back labor with no relief and also, his heartbeat started to be inconsistent, it turned out to be the best decision under the circumstances. Anyway, I really did love the yoga and it helped me a lot. Thank you for everything Shanti, your teaching really did help with my pregnancy and birth experience and I am looking forward to working out with you again. With kind regards,
~ Katie Silvia and Baby Mason
Mi kier a geef bo door cumi baby ta zit nog steeds lekker op haar kontje, dus het wordt jammer genoeg een keizersnede.. Apesar di esey mi kier gradicibo masha hopi mes pa tur e coaching y tips.. Danki pa guiami door di full e embarazo. E twt hopi great pa a maak mee tur e lesnan y workshops.. Mi lo raad e aan na tur mommy to be!!Mi ta ready for whatever comes.I accept that I cannot control labor and birth, I embrace the mystery and flow with it..!! Thank u Shanti from
~Melitza y Baby Evi
Dia 18 di december nos Charles 'Charlie' Isaac van Geest a nace door middel di un keizersnede. Nevertheless, mi kier a gradicibo pa bo lesnan, tips y overall good vibes cu a zorg pa mi a sintimi prepara ( as much as one can be den situacion asina ????). Esei a zorg pa hopi rust den mi mes.
~Gionette and Baby Charlie
Cesarean Births
Mi kier a bisa Shanti danki pa tur kos pasobra pa casualidad awe mi tabata combersa ku Bryan y mi a bise ku hopi kos ku mi a haya for di Shanti mi a haci uso di dje.. Por ehempel, mi contraccions nan mi por a controla ku mi rosea, door di keda move etc.
Sierto rato den e proceso mi ta give up y mi ta corda unrato con nos a siña pa ta positivo y mi tbt switch mi mente bek bisando mi mes y mi baby ku nos por.
Hasta ora cu nan a disidi pa operami mi tbt keda positivo, pensando ku tur kos tin su motibo, tur kos ta pasa pa algo y mi tabata djis keda positivo. Y pa esey mi ta gradici Shanti paso sin e les nan y e push nan ku nos a haya, mi ta kere mi lo a give up y no lo tbt fuerte suficiente..
Danki atrobe Shanti
~ Mommy Fabienne y Baby Breanna
–
Maandag heb ik Shanti geappt om te vragen als ik naar de les van maandag kan komen in plaats van woensdag. Ik was 39 weken en ik kreeg al signalen dat mijn baby een van deze dagen zal komen. Die nacht heb ik niet goed kunnen slapen, ik had geen pijn maar ik voelde me incomfortabel. Toen ik wakker werd om 6.30, voelde ik iets raar in mijn buik, ik ging staan en toen kwam de water uit. Mijn vruchtwater is gebroken. Mijn man en ik gingen direct naar het ziekenhuis en een poosje later begonnen mijn weeën. Om 12uur in de middag mocht ik beginnen met persen, maar helaas was het niet gelukt om een natuurlijke bevalling te hebben (E twt un sterrenkijker y su cabes twt un tiki schuins E dr a bisami ni cuanto cu mi lo a pusha mi no lo por a pushe afo sin hasi ami of mi baby danjo)
Ik was direct naar de OK gebracht voor een spoed keizersnede. Om 13.36 was onze little mermaid Ariella geboren. Het was geen makkelijke bevalling, maar de gynaecoloog, de verloskundige en verpleegkundige waren heel professioneel en hebben mij goed begeleid en ondersteund in het hele process.
Ik wil ook Shanti bedanken voor de lessen, de ademhaling techniek werkt heel goed en wat ze altijd zegt "expect nothing, but be prepare for everything"
~ Moeder Marjolyn & Baby