Mindfulness at Work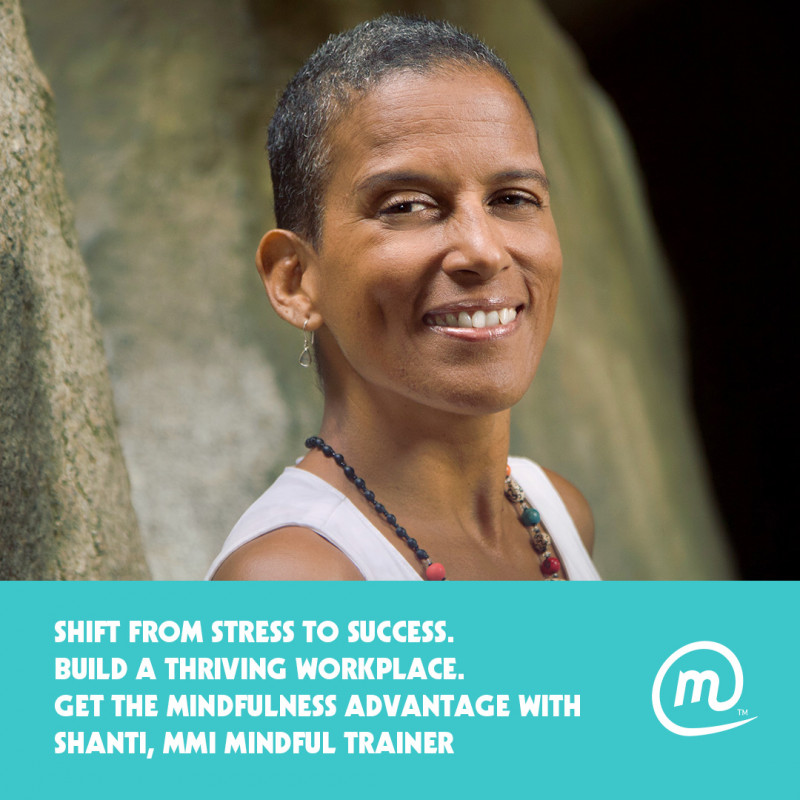 ELEVATE YOUR WORKPLACE AND BUSINESS
MINDFULNESS IS an awareness training that has been proven to increase overall
physical, mental and emotional health.
This is not just a toolkit it is proven and effective strategies to transform the workplace culture and future of work!
Since a decade high performing companies such as Google, Nike, General Mills, SAP
have invested in mindfulness training for their employees.
Why?
Here are just a few of the Mindfulness Advantages :
THRIVING WORKPLACE CULTURE
Stress and overwhelm are effectively reduced through simple yet powerful awareness
practices, leveling up the workplace experience and productivity.
RESILIENT EMPLOYEES
Respond effectively to conflict and stress. Improve your emotional intelligence and
enjoy enhanced connection and work engagement
INCREASED COMPANY PERFORMANCE
With resilient and engaged employees the whole company benefits.
Experience reduced sick leave and employee turn over,
Increased productivity = increased profitability!
THE CURRICULUM
Consist of 8 modules with a total of 30+ techniques

1.Mindfulness at Work :
The foundational module during which participants self-evaluate their level of perceived stress, and receive basic mindfulness training including instruction, practice, and the benefits gained from being mindful.
2.Wellbeing & Resilience
provides an overview of the benefits of mindfulness as it relates to maintaining physical and mental well-being. Explore how stress affects the body and mind, and how to use a variety of stress relieving practices to create more resilience.
3.Creativity & Innovation
will introduce participants to the two categories of mindfulness practices: Open Awareness and Focused Awareness. They'll explore stages of the creative practices and discover how the brain works, how mindfulness changes the brain, and how going off-line can give one the space and time for creative problem-solving.
4.Focus & Efficiency
shows how mindfulness contributes to an increased ability to focus, which leads to more efficiency at work and home. Learn more about mono-tasking, presenteeism, self-awareness,. addressing email mindfully and productively, as well as how to be more mindful when leading or attending a meeting. And setting up daily work life harmony
5.Emotional Intelligence
provides an overview of emotional intelligence and how to increase it with mindfulness practices. Mindfulness is the gateway to emotional awareness. Learn how to respond to challenges rather than be reactive. Look at the components of emotional intelligence and how they contribute to improved workplace relations and being a more effective team member and leader.
6.Empathy & Compassion
focuses on the need for making the workplace a kinder place to spend the day. Its proven that compassion is a buffer against stress and that it can prevent or alleviate anxiety and depression. Training in compassion and empathy allows for greater engagement at work and retention of employees.
7.Diversity & Inclusivity
are essential practices for the world of work. Research shows that making an effort to create diverse work forces and to include all voices and perspectives increase the bottom line, and makes companies more innovative.
Explore how to cultivate inclusivity and compassion with mindfulness.
8.Best Practices for Work
reviews the practices learned during the training and helps participants to make a plan for sustainability at work and at home. There will be a final survey to explore and compare levels of stress to the results found at the start of the program.
Modules are 60 - 95 minutes and consist of:
-latest research of mindfulness, the evidence
-how mindfulness affects your brain and wires it for success, the science
-learn 30+ mindfulness and awareness practices to apply daily at work and in life
-includes a manual and supplement material
Modules can be provided, virtual or in person, as:
-a standalone presentation
-for an inspirational lecture
-as a skill improvement workshop
-for team building purposes
The Mindfulness at Work can also be provided in a :
- 4, 5 or 6 weeks training
- Half day or Full Day Mindfulness Retreat
- Customized training adapted to your company's dynamic
Call for a free Benefits Analysis!
Start shifting your workplace into a thriving and productive place today!
Testimonials

" Wellness is a great @Hyatt Aruba initiative which could not become a reality without you Shanti. The @Hyatt Aruba team appreciates your professional and thoughtful approach to #mindfulness and #wellbeing.
~ Gabriel Castrillion, GM Hyatt Hotels Corporation


" Shanti was super accommodating, has great knowledge about Mindfulness at work. I believe all companies should allow Shanti to share this valuable information. It will only benefit your company.Highly recommended"
~ Pearl Eisden, HR Coordinator Bucuti Tara & Beach Resort

" A strong, helpful and inspiring experience for my staff team and for Lori and I"
- Tony Cox, Owner/Director The Butterfly Farm

"Shanti is one of the few people who walk their talk, and she has this beautiful, inspiring aura around herself, which radiates a feeling of calm and peace to everyone around her. On top of this, she is incredibly knowledgeable and connects science and spirituality so that even the most skeptical person can understand the core benefits of mindfulness."
~ Natalie Brandts Wellness Specialist Bucuti & Tara Beach Resort


" Today, just a couple of weeks after finishing it, is the perfect time to write this review, because everyone at Animal Health can see the results of the work we did with you. The possibility of sharing in a space different from our workplace allowed us to enter a state of expectation and openness in each session, and the Quivit Center with its light and warm energy was an ideal place.
In each session, with patience and sweetness, you guided us through paths and exercises that allowed us to know a little more about our minds, our emotions and our reactions. Readings together with practical and theoretical exercises make the experience not only understood conceptually but can also be brought to reality. Today all this turned into a more intimate and familiar work environment, more sincere relationships and much less distress than before the course. Any company that wishes to have an impact on the deepest and most real well-being of its team has the possibility of finding in Shanti a guide that takes us inward, where the great changes in our lives take place."
~ Juan Henao, Director Animal Veterinary Hospital
" Keep up the good work, you have saved my life! Hope you can spread mindfulness and your love throughout the whole island and the world. Love "
~ A.L., employee
" I did not know I could feel such peace."
~Y. Josh, employee
" I enjoyed the practicality of this workshop. Shanti has this soothing and calming way to guide us to awareness and practice ways to befriend our emotions. I appreciated the balance of theories, statistics, reflection and practice during the workshop. The calmness and free space Shanti created keeps you active and safe. Thank you Shanti for the knowledge, peace and calmness you shared with the Butterfly Farm."
~ Anonymous, employee


Shanti is an official partner of the MMIMindful Company
With her latest specialization as a Mindfulness Trainer, she is passionately and
skillfully introducing mindfulness into the workplace